Sarah Henderson breaks down in tears in federal parliament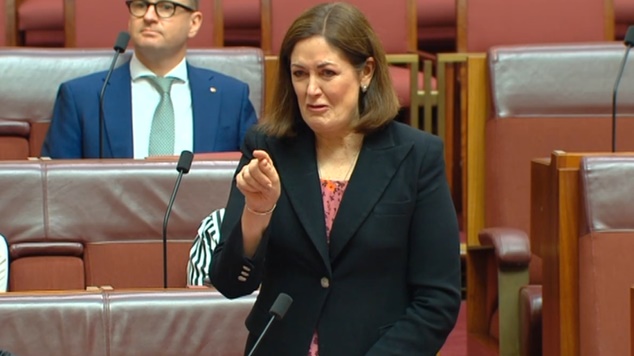 Liberal Senator Sarah Henderson broke down in tears in parliament on Friday morning accusing Labor's Senator Murray Watt of saying "disgraceful things".
Just minutes into the parliamentary session the Victorian Liberal MP traded barbs with Senator Watt, and moments later burst into tears while making a complaint to the Senate President Sue Lines.
Senator Simon Birmingham was speaking to a motion sparked by last week's appearance of neo-Nazi groups at the Let Women Speak rally. Having failed to move a motion about stamping out Nazi symbolism in the lower house earlier in the week, the coalition put forward a similar motion in the senate.
As Birmingham tried to speak, members traded barbs across the chamber, with Senator Watt highlighting that Senator Henderson had reportedly sent text messages to Victorian Liberal leader John Pesutto campaigning for Liberal MP Moira Deeming to be kept in the party.
The Victorian leader has moved to expel Deeming from the party after she took part in the Let Women Speak rally and helped to organise and promote it.
'Are you going to move the expulsion of your far-right members?" Senator Watt asked, before adding "You sent the text messages."
Senator Henderson called back "You're a disgrace", before Watt responded the same line back to her saying "You're a disgrace."
Senator Michaelia Cash joined in saying "filthy grub", which she withdrew after President Sue Lines stopped the proceedings.
Senator Henderson then broke down in tears claiming that Senator Watt had made a "disgraceful" remark.
At the instruction of the President, Senator Watt withdrew his comment, saying he was only referring to the text messages that Senator Henderson had reportedly sent.
Later in the day Senator Henderson accused Senator Watt of insinuating that she supported Nazi sympathisers.
"Senator Watt interjected, pointed directly towards me and said words that I will not ­directly repeat, and that no other person should repeat. They were abhorrent and offensive," she said.
"Since I was elected in 2013, I do not recall in this chamber or the other chamber a more distasteful statement. The precise words uttered by Senator Watt will be seared into my memory for a very long time." Senator Henderson said.
Senator Henderson said Senator Watt had tried to distort what he had accused her of.
"Any attempt to distort and recharacterise his interjection only compounds the damage. The only words Senator Watt should be saying are, 'I unconditionally apologise.'"
In reponse Senator Watt told the chamber that he had never intended to upset Senator Henderson.
" The events of this week have been challenging for many in and out of this place—most of all, for vulnerable people who have faced persecution merely for being who they are.
"For the clarity of all senators, this morning, in response to Senator Birmingham moving the suspension motion, I asked Liberals why they were not condemning their own senators who are texting Victorian Liberal leader Mr Pesutto to support Victorian MP Moira Deeming, who recently stood with neo-Nazis. It was consistent with my view that as senators we are all accountable to each other for our actions.
"I did not intend to upset Senator Henderson, and that's why I withdrew my remarks, as did Senator Cash, when she withdrew remarks that she made against me. We all want this place to be a safe and respectful workplace. None of us wants to see our colleagues in distress. It is my hope that as senators we can come together against hateful and divisive rhetoric and engage in respectful debate." Senator Watt said.
During the debate over whether a motion could be put forward Labor argued that they would not be considering a motion for a bill that they had not had time to properly scrutinize. Labor's Katy Gallagher said it was not unreasonable to ask why federal Liberal members were working against Victorian Liberal leader John Presutto's attempts to rid the party of Moira Deeming.
"Let's not forget that last weekend in Victoria a member of the Victorian Liberal Party attended a rally where Nazi symbols and the Nazi salute were displayed. Let's not forget that.
"The Leader of the Opposition in Victoria moved immediately to expel that member from the Liberal Party, decisively and quickly, and yet, despite the grandstanding that we're hearing from Senator Birmingham this morning about all moving with a united and strong voice, where is the condemnation of that? Where is that? Why is the trans community being used as a political punching bag for other motivations?
"Where is the condemnation of that?" Senator Gallagher asked.
The Greens said they agreed with the government that the issue needed to be taken seriously, a follow the usual parliamentary procedures for the development and consideration of a bill.
One Nation's Pauline Hanson told the chamber that while she was in favour of banning Nazi symbols, she did not believe the men clad in black making Nazi salutes were genuine neo-Nazis. Senator Hanson said witnesses had told her some of the neo-Nazi group were holding hands.
"Nazi sympathisers actually don't hold hands. That's not their character. Isn't it funny that a couple of them were actually holding hands at the rally? Wouldn't you ask the question: why were they just allowed to proceed through to the rally, given free entrance into that area by the police? Was it truly real or was it a set-up? That's how I see it; it was a set-up."
OIP Staff
---
Do you need some support?
If you are struggling with anxiety or depression, support and counselling are available from:
QLife: 1800 184 527 / qlife.org.au (Webchat 3pm – midnight)
QLife are a counselling and referral service for LGBTQIA+ people.
DISCHARGED: [email protected] / discharged.org.au
Discharged is a trans-led support service with peer support groups for trans and gender diverse folks.
Lifeline: 13 11 14 / lifeline.org.au
Beyondblue: 1300 22 4636 / www.beyondblue.org.au
---

You can support our work by subscribing to our Patreon
or contributing to our GoFundMe campaign.