Victoria Liberal leader John Pesutto will seek to expel Moira Deeming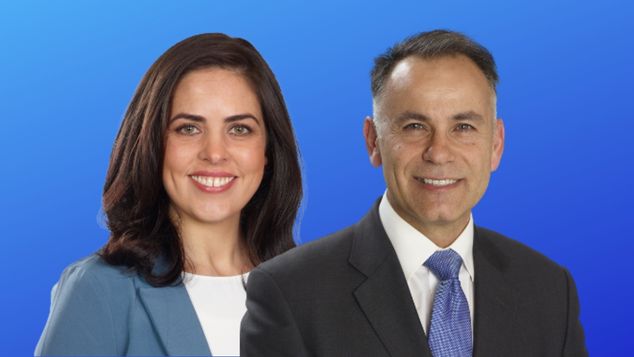 Victorian Liberal leader John Pesutto says Moira Deeming's position is "untenable" and he will move a motion to have her expelled from the parliamentary Liberal party.
Warning: This story has comments which might be distressing to some readers. For 24-hour crisis support and suicide prevention call Lifeline on 13 11 14. For Australia-wide LGBTQI peer support call QLife on 1800 184 527 or webchat.
In a statement Pesutto said he had met with Deeming earlier today and told her that he would be moving to expel her from the party room.
"Yesterday afternoon Victorians witnessed an abomination on the steps of the Victorian Parliament when neo-Nazi protesters engaged in an affront to the values we should all hold dear as Victorians" Presutto said.
"The violence, prejudice and hate that these protesters conveyed by their odious actions will never be acceptable in our State. I condemn them and commit to opposing such hate wherever it may exist.
"This afternoon I met with Moira Deeming MP who attended yesterday's rally. I discussed her involvement in organizing, promoting and participating in a rally with speakers and other organisers who themselves have been publicly associated with far right-wing extremist groups including neo-Nazi activists.
"At our meeting I informed Ms Deeming that I will move a motion at the next party room meeting to expel her as a member of the parliamentary Liberal Party as her position is untenable." Presutto said.
"This is not an issue about free speech but a member of the parliamentary party associating with people whose views are abhorrent to my values, the values of the Liberal Party and the wider community."
Yesterday Deeming was a prominent participant in the Let Women Speak event which was held in front of the state's parliament.
Deeming made headlines last month with her inaugural speech to the Victorian parliament.
In the speech the conservative MP attacked gender affirmation for people young people who are transgender, voiced her opposition to Victoria's laws that outlaw conversion therapy, and argued that transgender people should not be allowed to use the bathroom that matches their gender.
Deeming also called for the state to change the laws that allow the children of home-based sex workers to reside in their homes. She said police had told her Victoria would become the "child rape capital of the world" if the laws remained.
Following the speech John Pesutto has told the media that he would not condemn Deeming speech, but the party had no plans to take action on her calls for changes to abortion laws, or the state's bans of conversion therapy and other suppression and change practices relating to sexuality and gender.
The opposition leader also ruled out pushing for an inquiry on transgender health care. Pesutto said he did not agree with Deeming's views.
OIP Staff, OUTinPerth has reached out to Moira Deeming for comment. 
---
Do you need some support?
If you are struggling with anxiety or depression, support and counselling are available from:
QLife: 1800 184 527 / qlife.org.au (Webchat 3pm – midnight)
QLife are a counselling and referral service for LGBTQIA+ people.
DISCHARGED: [email protected] / discharged.org.au
Discharged is a trans-led support service with peer support groups for trans and gender diverse folks.
Lifeline: 13 11 14 / lifeline.org.au
Beyondblue: 1300 22 4636 / www.beyondblue.org.au
---

You can support our work by subscribing to our Patreon
or contributing to our GoFundMe campaign.