Scarlet Adams welcomes you to the world of Burlesque!
Local drag star Scarlet Adams has always been one to venture out beyond the confines of queer venues. Earlier this year Scarlet signed up for the Miss Burlesque competition and took out the top spot in the state finals.
Now she's getting ready for the National Final which will be held at the Astor Theatre on 28th July. OUTinPerth caught up with Scarlet to find out more about her latest adventure.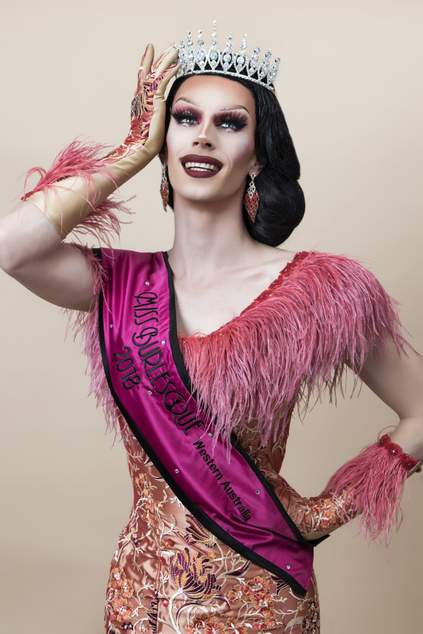 What made you decide to take on the Miss Burlesque competition?
I went to watch and support my sister Alexas Armstrong who was competing in Mr Boylesque last year, but it was also the Miss Burlesque Semi Finals.
I had a grin from ear to ear the whole time. I've always admired burlesque and wanted to do it, but thought it was so different from Drag. But recently I've seen burlesque performers come out in full drag makeup and lip-syncing whilst strip teasing.
Burlesque is totally slowly infiltrating the the Drag Scene too! I'm so excited to see the lines between these two art forms blurring.
I also entered as a way of saying a big F**K you to anyone who thinks that men or drag queens can't to do burlesque. Burlesque, like Drag, is for everyone!
The genitals between your legs has nothing to do with your ability to entertain an audience!
What's been the most challenging thing about learning the art of burlesque?
The routines are so much more complicated! You really have to get every aspect of the performance down because your dealing with a whole other variable. The costume needs to come off at the right moment and look effortless and graceful.
It's also about the art of tease, leaving the audience wanting more! I've done reveals before in drag, but nothing that matches the complexity of burlesque!
What was your routine for the state championships?
We had to do two routines; traditional and unique, my traditional routine reflects the golden age of burlesque and is a glamorous 40's inspired routine. Lots of sequins, rhinestones and ostrich feathers.
My unique routine however is what I think really won me the crown. I'm a comedy queen through and through. People love to laugh, and I love to entertain. So when it came to the unique section, where anything goes, I decided to do a strip tease as Her Majesty Queen Elizabeth II. You'll have to come watch the national finals for more detail!
You've made your mark taking drag to places it hasn't been before like Ballroom Dancing, what other arenas would you like to foray into in the future? 
Yes, totally, I like to be a Jill of all trades, so I venture drag out into areas that haven't seen drag before. I made history by being the first drag queen not only to enter the Miss Burlesque competition but to win a state title!
I'm not sure if there are any other fields i'd like to venture into just yet. I'm already so busy, haha! But I'd definitely love to perform in more regional communities and do some more work on screen. Anyone need a queen for their music video/add/film/television show?
What's your favourite part of performing?
All of it! The process of creating a show track, producing the routine, sewing the costume, and seeing the crowd have a positive response to it. So much hard work goes into what we as Drag and Burlesque queens do, its great to get that cheer, and occasionally, that crown!
Find out who will be crowned Miss Burlesque Australia 2018 at the Astor Theatre on 28th July. Find out more at Miss Burlesque Australia. 
Graeme Watson
---