Shakespear's Sister reform announcing new music and tour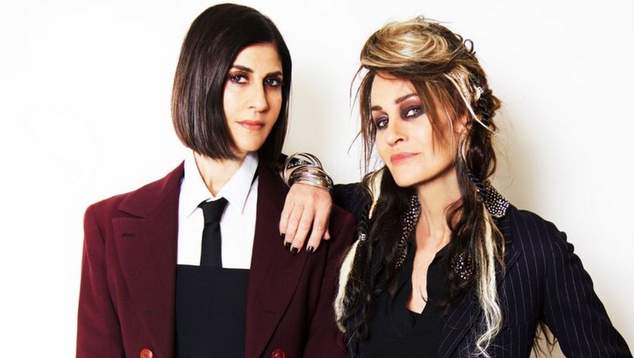 Tonight in the UK Siobhan Fahey and Marcella Detroit will do something they haven't done for over a quarter of a century. They will perform together, appearing on The Graham Norton Show.
Much loved band of the late 80's and early 90's, Shakespear's Sister have announced that they've reformed, recorded some new music and are ready to hit the road.
Marcella Detroit and Siobhan Fahey had a massive falling out 26 years ago, and hadn't spoken to each other in decades, but they've settled their differences and begun working together again.
Siobhan Fahey originally envisaged Shakespeare's Sister as a solo project. In 1987 she quit Bananarama and moved to Los Angeles. She began working with producer Richard Feldman who brought in songwriter Marcella Detroit as a collaborator.
Fahey's then husband David A Stewart, from Eurythmics, suggested the two work together on the project and Shakespear's Sister became a duo. Their first album Sacred Heart was successful, spawning the hit Your History, but it was with their second record Hormonally Yours that they found their greatest success.
Together with Stewart, writing under a pseudonym, they scored a huge hit with the song Stay. In recent years it's been covered by both Ane Brun and Delta Goodrem.
Things quicks turned sour for the band though, and Detroit was dismissed from the band, embarrassingly finding out she'd been dumped when an announcement was made at an awards ceremony. Fahey continued releasing music, sometimes under the Shakespear's Sister name, and sometimes under her own name. Detroit also continued on with a successful solo career.
When OUTinPerth chatted to Marcella Detroit back in 2017 she told us the chance of a reunion was highly unlikely.
"I highly, highly doubt it." Detroit said "Only because she and I did not end on very amicable terms. I have reached out to her many times.
"It was not a great time for either of us" Detroit says of the duo's time together. "I'm cool with it, and I wish her all the very best in the world."
"We were very different people, we became very close as far as being in a band together, its like a marriage, but those things don't always work out."
The pair now however seem to have straightened things out, reconnecting last year and deciding the time was right to reprise their creative collaboration.
In 2017 Fahey reunited with Bananarama and went on tour of the UK, and it seems that experience might have been the trigger to reform Shakespear's Sister as well.
On May 15th Shakespear's Sister will release a new song All The Queens Horses which will feature on Singles Party an upcoming greatests hits collection. The album will also feature a second new tune C U Next Tuesday. 
Siobhan Fahey said the duo had no desire to repeat their past and had firmly re-established their friendship.
"Neither of us wanted to go into it if there was anything apart from friendship and unity," Fahey said of their reunion. "We did not want a repeat of 1992. Life's too short. I realised what a perfect writing partner [Marcella] is for me… there's some sort of weird fusion of energies that feels fated. It's like this third entity exists that is neither me nor her, it's the two of us."
The band have also announced their play some live shows in the UK later in the year, locking in a 14 date tour.
OIP Staff
---