Should Australia Have a Referendum on Marriage Equality?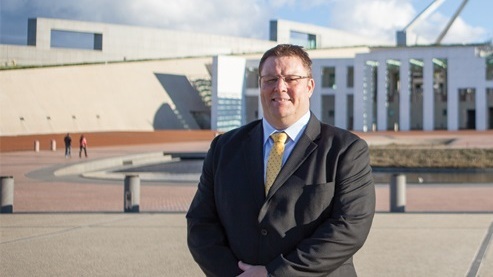 Independent Senator Glenn Lazarus has voiced his support for marriage equality in Australia but he doesn't think politicians should be making decisions on the issue.
Speaking to ABC Radio 612 Brisbane Senator Lazarus said that while he is a supporter of marriage equality, he thinks the issue should be taken to a referendum.
"What I do agree with, and a lot of people are saying, is why are politicians the ones that have got to decide this?
"I think we should take it to a referendum. Unfortunately a lot of politicians are bound by party policy: we either have a conscience vote, or we get a referendum going and I would guarantee, the majority of Australians would support gay marriage, and if they don't I'll turn up to Parliament House in a mankini." Senator Lazarus said.
Senator Lazarus was elected as part of the Palmer United Palmer but he quit the party in March to become an independent. He's recently announced plans to form his own political party Team Glenn Lazarus.
Australian Marriage Equality (AME) have welcomed Lazarus' support for marriage equality, but argued rejected his proposal for a referendum. Rodney Croome, National Director of AME said a referendum was unnecessary.
"We congratulate Senator Lazarus on his support for marriage equality but reject the idea of a referendum." Croome said.
"A referendum would be costly, unnecessary and would further delay an already urgent reform.
"With the numbers in Parliament so close and a government free vote achievable, Parliament remains the quickest and easiest route to marriage equality."
While Ireland is holding a national referendum on the issue today, Australian supporters argue that such a move is not required in Australia.
Professor George Williams, one of Australia's leading constitutional law experts, highlighted that Australia does not require a referendum in an opinion piece published earlier this week in the Sydney Morning Herald.
"It was arguable that it extended only to recognising the type of marriage that existed in 1901 when the constitution came into force, that is, marriage between a man and a woman.
"These doubts have now been quashed. In striking down the ACT's recognition of same-sex marriage in 2013, the High Court held that the federal marriage power can authorise marriage between people of the same sex. It described marriage in gender-neutral terms as being "a consensual union formed between natural persons in accordance with legally prescribed requirements"." Professor Williams argued.
OIP Staff