Something's Got a Hold on Vika Bull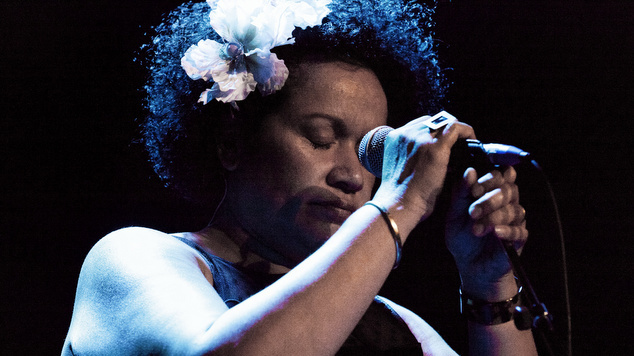 Vika Bull is one of Australia's most distinctive voices. Since singing in The Black Sorrows with her sister Linda, she's had a vibrant and varied career. Vika and Linda Bull released a number of successful records together, exploring the styles of country, rock n' roll, gospel and traditional Tongan music. Now Vika Bull is going back to her musical roots by paying tribute to a singer who served as an inspiration and example to her early in her singing career in 'At Last: The Etta James Story'. We chatted to the singer about what it's like to tour the works of an iconic soul and Motown legend.
"It's a bit scary. I didn't really want to do it initially and then ended up thinking you know 'if someone else does it I'll be really pissed off'. I did listen to her a lot when I started singing. I try and copy her. I just wanted to make sure that I could do it well each night. Bull explains. "You can tell that she lived her life and when she sings you can hear that in her storytelling. Her vocals are so rich and so emotional and that's what I like about Etta's singing. It's very powerful."
The show is a narrative concert, an emerging form that blends live music and storytelling and is becoming increasingly popular. Bull explained to us how it all works. "I tell her story along with our trumpet player Tibor and so we tell the story together about Etta's life. She had a very colourful life. She got into a bit of trouble, got addicted to every substance known to man. And in between the storytelling we'll sing a song. Well sing a song that kind of fits with that part of her story."
Etta James battled with depression and addiction throughout her long and legendary career. We asked Bull if it's difficult to tell those darker parts of her story every night. "Yeah sometimes it does. It was pretty heavy. We try not to get to heavy if you want to find out how heavy she got you can go and buy a book and read it because she'd quite frank in her autobiography. There were some pretty sad moments and you've just got to soldier on and tell it because in the end she died happy. It wasn't a tragic ending. It was actually a very happy one."
The show is an emotional journey both for Bull and the audience, because, as she explains, the songs are deeply personal for a lot of people. ". You see a lot of people crying, especially in 'I'd Rather Go Blind' people get very emotional in that. But in 'At Last' they're really happy and after the show they go 'I got married to that song'. Every second person seems to have danced to 'At Last' at their wedding."
'At Last: The Etta James Story' is at the Regal Theatre in Subiaco from the 23rd to the 27th of July.
Tickets available at ticketek.com.au
Sophie Joske