Spanky: Back With Two Outrageous Shows!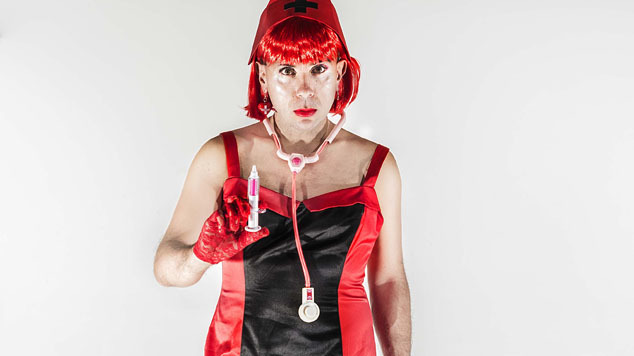 One of the highlights of last year's Fringeworld was the show 'Candice McQueen – Nasty'. The late night tales from the original mister sister was a perfect combination of comedy, music, shock and storytelling. The master of cabaret behind that show was Spanky, who returns this year with multiple shows.
The show was really fun last year. I'm really glad it's come back again because being on that late I think a lot of people didn't get to see it.
I'm really excited about coming back. I feel like the show really found its feet in Perth, and I have lots of really quite amazing, really warm memories there and that's why I'm really excited about coming back. Hopefully there might be a bit of word of mouth about it, hopefully people will come and if they missed out then they'll get to see it and there might be some repeat offenders!
You've got a new show coming as well, what it all about?
'Dead Bitches': In the greater scheme of things, I was thinking that 'Dead Bitches' is actually the second in a trilogy of cabaret shows. So when I thought that we had to come up with another show it was like "Okay"' and I thought about it and went "Right. I'm going to do a trilogy."
So 'Dead Bitches' was actually inspired by a piece of sculpture that I saw when I was on tour with Candice McQueen at the Adelaide Art Gallery. It's based on enlightenment and it's kind of the enlightenment of Buddha to be honest.
So Raylene Dakota Honeypot is the nurse inside a hospital room and she looks after the souls of the young, dumb, beautiful and totally fucked up before they go and party in the clubs forever. They come to her to get better before they go to the club. And it's the end of the Mayan calendar so she's terrified that the world is going to end. And so she gets these three apocalyptic doomsday visions and the three dead bitches kind of commences. 
It's kind of like Scrooge meets Cabaret meets Raylene Dakota Honeypot. It's really stupid and it's really silly. It's still got some of the themes that Candice McQueen explores, of celebrity, celebrity culture, pop culture, addiction and the only kind of grammar that I set for myself was that all the music had to be based on singer songwriters. So Lisa Murphy, there's Natalie Merchant, there's Fiona Apple, there's Prince, there's Joanie Mitchell there's James Blake, it's all over the shop really. So there's no decade, like Candice was very 90s but this one's based on all singer songwriters. Amy Winehouse is one of the dead bitches and I wanted to keep the singer songwriter reference in there without actually referencing her. I didn't want to get myself into a situation where I was kind of doing an Amy Winehouse tribute so I'm using James Blake to express Amy Winehouse.
You've also been working with Matthew Mitcham writing his new cabaret show, how's that been going?
Matthew's lovely. He's a really warm, gentle, sweet, crazy character. We have a very similar story. We were only children, we were brought up by our mothers and we formed a close relationship with our grandmothers. I feel really blessed that I've been given Matt's biography to adapt into a cabaret show for him. It's been a really amazing collaborative process.
Is it hard to write about someone else's life?
Absolutely. It's something I've never done before. I said to Matt to begin with, I've been really aware that my experience has been writing in my voice, so I really needed to have a couple of days with him on the phone to see how he sounds and I read something out to him. I was in my room and I was writing out something about addiction, because obviously that's something that kind of permeates my own work and I got really moved. I moved myself!
I read it out to him and I said "What do you think?" and he said "Wow, that sounds like how I would say something, just read out in your own voice." And when he said that to me, I thought that maybe I was on the right path. To be really sensitive to someone's story, I can't really impose my own views on it. I have to be really open about where he's coming from. Hopefully I've delivered on that. Time will tell.
To book tickets to 'Candice McQueen – Nasty ' or 'Dead Bitches' head to www.fringeworld.com.au
Graeme Watson