Stirling Theatre are presenting Alan Ayckbourn's 'Absurd Person Singular'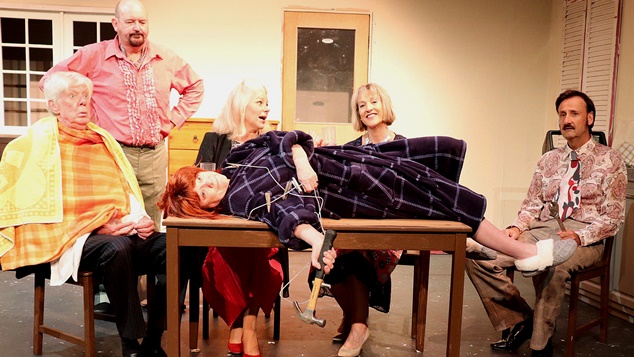 It's the play that's got everything – including the kitchen sink.
Written by Sir Alan Ayckbourn and directed by Janet Brandwood for Stirling Theatre, Absurd Person Singular documents the changing fortunes of three married couples who turn up in each other's kitchens on successive Christmas Eves.
The Hopcrofts want to succeed in scaling the social ladder, but havoc ensues when they hold a drinks party to impress their high-powered friends – yet it's nothing compared to what happens at the next two Christmases when the friends return their hospitality.
Sir Alan Ayckbourn is an Olivier and Tony Award-winning playwright with 89 full-length plays to his credit, including Bedroom Farce, The Norman Conquests trilogy, A Chorus of Disapproval and Woman in Mind.
"It's a wild comedy of behind-the-scenes disasters with an underlying darker thread, as one couple advances to prosperity while the others decline," Janet said.
"The action offstage also involves a fourth couple and a large dog we hear but never see.
"The show's biggest challenge has been finding all the kitchen appliances required, such as a gas cooker, fridge, washing machine and sink, as well as changing the basic set between acts to represent three different kitchens.
"There have been lots of ideas that have helped to meet this challenge – I have a great cast and crew, making my task of directing much easier."
Involved in theatre from a young age, Janet took part in various UK festivals and musicals and was a member of two singing groups before emigrating to Australia in 1981.
She joined Stirling Theatre the same year and has appeared as an actor, singer and dancer while also directing numerous thrillers, musicals, comedies, dramas and melodramas.
In 1996, Janet directed Brigadoon, which scored a best costumes Finley Award, and her 2016 production of The Sisters of St Judas received a best ensemble adjudicator's award at the annual Dramafest.
"I love the style of Sir Alan Ayckbourn and directed another of his plays, Season's Greetings, at the old Stirling Theatre in Cedric Street in 1997," she said.
"I have directed Absurd Person Singular before – at Melville Theatre in 1990 – and was talking about it in a group setting a year or so ago, describing how funny and entertaining it was.
"Someone suggested it would be good to do it again at Stirling Theatre."
Absurd Person Singular plays at 7.30pm April 21, 22, 27, 28, 29, May 4, 5 and 6 with 2pm matinees April 23 and 30. Tickets are on sale now. Stirling Theatre is at 25 Morris Place, Innaloo.
Source: Media Release