'Strictly Ballroom – The Musical' is ready to cha cha cha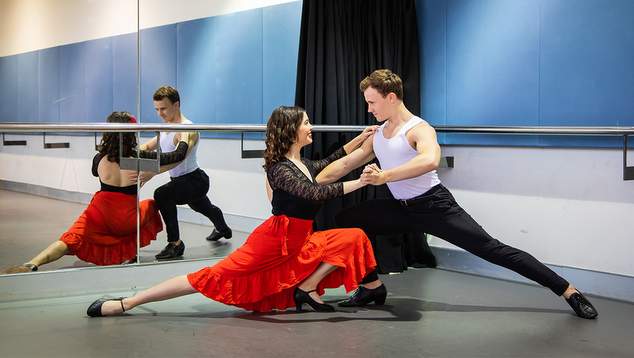 Strictly Ballroom The Musical will quick step, cha cha and samba its way into your heart when it dances on to the stage of the Regal Theatre as WAAPA's highly anticipated mid-year musical from June 15 to 22.
Each students from the WA Academy of Performing Arts deliver a musical and the productions are always raved about. In recent year's they've taken on classics like South Pacific and 42nd Street, but this year they're going with something a little more modern.  
Based on Baz Lurmann's much-loved 1992 film that became a global sensation, Strictly Ballroom The Musical breathes gleeful new theatrical life into the tale of the maverick ballroom dancer who just wants to do his own steps and the shy young Spanish dancer he takes on as his rookie partner.
Defying both convention and their families in their quest to win the Pan-Pacific Grand Prix Dancing Championship, Scott and Fran discover that to be a winner, your steps don't need to be strictly ballroom.
This sequined, sparkling extravaganza features larger-than-life characters, spectacular dance routines and much-loved songs from the hit film, including Time After Time, Perhaps Perhaps Perhaps and Love is in the Air.
There are also fabulous new songs by internationally acclaimed artists such as David Foster, Sia Furler and WAAPA graduate Eddie Perfect, whose original score for the new Broadway hit musical, Beetlejuice was recently nominated for a 2019 Tony Award.
Strictly Ballroom The Musical will be performed by a huge cast of WAAPA's 2nd and 3rd Year Music Theatre students with an orchestra of WAAPA Music students, under the direction of Crispin Taylor and music direction of David King.
Taylor describes how he and his young cast are working to find the 'beating heart' of this new production.
"There's three stories, really," he explains. "The first being that of the young dancer, Scott, who is struggling, having been brought up with the notion of 'strictly ballroom', a place of rules and strictures. He feels the need as an artist to break free of that. There's also the love story with Fran and then of course Fran's ugly duckling story. So there's three stories going on at the same time.
"What we're trying to do is not lose any of the comedy and the humour and the fun of the show, but to give it a contemporary heart. Fran's story is one of bullying, not unlike that in Muriel's Wedding. We're trying to embrace all the comic aspects and the music, but also the absolute truth of the story being told."
Making sure the show's dance routines are sprinkled with just the right amount of 'sparkle' is former WA Ballet principal artist Jayne Smeulders, who now teaches at WAAPA.
"Jayne grew up in the ballroom world as well," Taylor reveals. "Her parents are ballroom dancers and her skills lie across several different types of dance.
"There's ballroom, but she was also a prima ballerina, she also worked with the Nederlands Dans Theater. She also taps and is an acrobat! She's really worked across all kinds of professional types of dance. She has an understanding of the Strictly Ballroom environment, but also of contemporary dance and the improvisation that Scott is yearning for."
Strictly Ballroom will be at the Regal Theatre from 15th – 22nd June – tickets via Ticketek: Tel: 1300 795 012 or online at ticketek.com.au
OIP Staff
---