Strykermeyer: Portrait of an Artist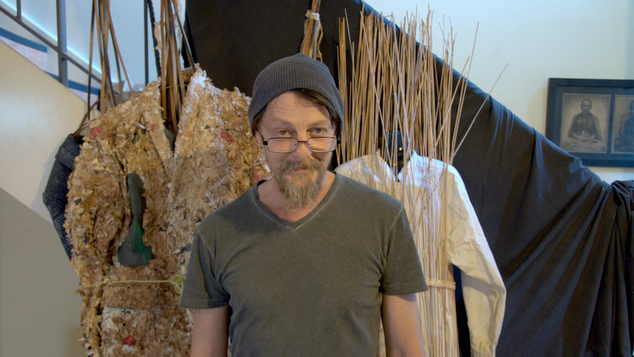 Strykermeyer has become something of a legend for his intense performances and intricate costumes, not to mention his BAFTA award-winning work as the makeup artist for 'Priscilla: Queen of the Desert'. Now he's taking his formidable talents to a new realm with his first solo art exhibition taking place at ChrissieParrottArts. Strykermeyer will be using the mediums of oil painting, film and installation as well as performing at the exhibition's opening night. The artist himself sat down with OUTinPerth and told us what this new artistic journey is all about.
Strykermeyer explained that although this is his first solo exhibition, he's no stranger to visual art. "I've always painted, but I've never used oils before. I've always used whatever I can get, and whatever's in front of me, including ash from an ash tray and spit."
However, Strykermeyer has been turning his hand to a new medium, and that's oil painting, which he hadn't felt a huge interest in until recently. "I always thought oils were too messy. But they're no more messy than any of the other stuff that I use. But the oil itself speaks to me at the moment and that's a first."
Strykermeyer started identifying with oils after a friend gave him a paint set for his birthday. He soon realised that he could use them for good, and decided to sell his paintings to raise money for an orphanage in Ghana called Kimberly Care, of which he is a board member.
"I thought, if I started painting, and if some of those sold, I'm thinking $100 each, at first. Then I can help out that way and it doesn't really cost me that much money" he said. "I've been buying my own paints as well and so it's not really that expensive. It keeps me in, which is great because I don't really wish to go out very often."
Strykermeyer explained that there's a creative throughline that runs through all his work, be it performance, film or painting. "There's a certain line in all of this that I think cuts through absolutely everybody on the planet and it's the only thing I could find that everybody has. And that is feelings. Some people don't show them. Some people are hard, some people are way too soft. And all of that fabulousness. But we all feel something and that's what I'm trying to connect with. I'm trying to connect with the soul and to me that's all that is worth talking about."
Strykermeyer's collection features a number of very different works, all of which possess a particular emotive quality. Some of them have taken over a year, others only a few days. There is one thing that connects all his work, and that's his desire to communicate with and help other people, powered by his motivation to support Kimberley Care. "I think if I just did something lavish and fabulous, that would just be serving me and nobody else. So if I can help the world, and at this age, at this stage of my life I can't think of anything better to do. I have no ambition to do anything, be anything, except helpful."
Strykermeyer's exhibition will be at ChrissieParrottArts on October 4th and 5th. More information available at www.chrissieparrottarts.com
Sophie Joske