Emily Weir makes her professional debut in Tartuffe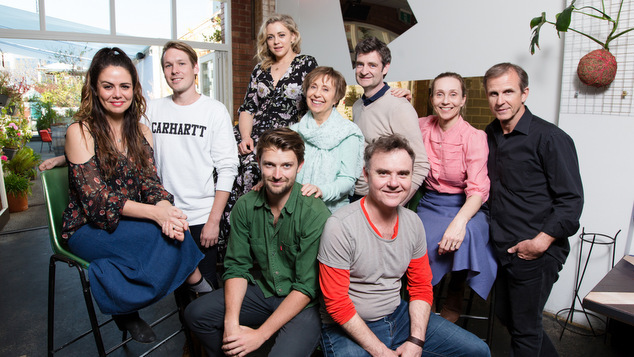 Actress Emily Weir (left in the photo) has just graduated from Queensland's University of Technology and she jumped straight into her first professional role in Black Swan State Theatre's production of Moliere's classic Tartuffe – The Hypocrite.
This new acclaimed adaptation from Justin Fleming takes the iconic French play and re-positions it for modern day Australia. The new take on the story however maintains the play's rhyming couplets.
Weir plays the streetwise, sharp-tongued maid Dorine, who is the clever voice of reason and speaks her mind often. Catching up for a coffee in Northbridge we asked Weir is learning rhyming couplets harder than regular lines?
"It's interesting, in as way it's easier to learn because as soon as you hit the last word of the line you know what's coming next has top rhyme with it, but what I have found a challenge is that because in these rhyming patterns you can get stuck in a rhythm and end up sounding like a nursery rhyme." Weir said.
Weir explains that the language of the play is incredibly complex and changes depending on who is in each scene.
"When Tartuffe leads scenes it goes A, B, B, A. But when the scenes are about true love it switches to an A, B, A, B pattern, There are all these different rhymes in it."
Three hundred and fifty two years after it was first performed, Weir said Tartuffe still had the power to offend and challenge audiences.
"I think it does still have the power to offend, but I think that's important." Weir said. "I does might offend certain groups of people, but its still completely relevant.
"I think when it was originally written it was about religious hypocrites, even though religion is still a massive part of the play, I think the way it will touch contemporary audiences is the political state the world is in, it's about political hypocrisy.
Weir was full of praise for Justin Fleming's new adaptation of the play saying he's added some wonderful Australian language.
The charming actress shared with us her excitement as the show heads towards its opening night and said she loved tackling the comedic elements of the work.
"It is true what they say about comedy, it is the hardest performance to do, you can't really fool anyone with comedy. You have to play the absolute truth of it."
"I'm learning so much by watching these great performers," Weir said of her cast mates,"Darren Gilshenan is a comedic genius, Hugh Parker, Jenny Davis – they're so great with the timing and they use the language to their advantage."
"I've been learning so much about how the physicality is part of the comedy, you have these beautiful words, but you have to back it with the physicality to make it really delicious."
The Queenslander previously worked with Black Swan's Artistic director while she was studying at QUT. Cherry directed a production of Angels in America Part 1 and Weir was chosen to play the role of drag queen Belieze.
"It was amazing to play him." Weir said. "He's like the ideal person, he's clever, smart, strong, sassy – all those beautiful positive and comforting things in a human being."
To prepare for the role Weir got some of her friends who were drag queens to make her up for a night on the town, and she took her other cast members along to introduce them to Brisbane's queer community.
Weir said she'd been having an incredible time rehearsing for the show and discovering Perth while she was here.
Tartuffe opens on October 22nd at the Health Ledger Theatre.
Graeme Watson, image: Daniel James Grant