'The Australian' launches new attack on transgender children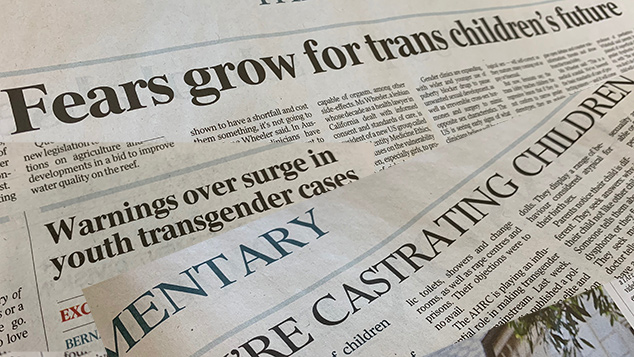 The Australian newspaper has featured a story suggesting that transgender children are a result of "social contagion" and argues that doctors treating transgender patients are doing so without any scientific proof or backing of long term studies.
The report comes as the news paper launches a new 'Gender' page on its website dedicated to collating all their articles focussing on transgender issues. Critics have highlighted that the newspapers coverage of transgender people and related issues is almost always negative.
While Saturday's Weekend Australian focussed on a submission to health minister Greg Hunt that claimed that gender dysphoria is a "psycho-socio-cultural dis-ease", a follow up story on Monday citing the same submission and shared the views of a new US based group called Rethink Identify Medicine Ethics who believe there will be a wave of people regretting their gender transition.
Additionally on Monday Jennifer Oriel published an opinion piece titled Gender Reassignment? They're Castrating Children in which she argued that parents were guilty of pushing their children in treatment for fender reassignment because they did not fit into strict gender expectations.
Oriel argued that many of the children being treated for gender dysphoria were being given medical treatment just because they were girls who "like roughhousing and don't like wearing frocks". The columnist says gender atypical youth are being put on display by their parents who are "not shy of the spotlight" and a media "hungry for ratings".
Anna Brown, Chief executive of Equality Australia says recent reporting by the national newspaper has been disgraceful.
"The Australian newspaper's obsession with humiliating trans people is disgraceful. The rights and existence of transgender people is not up for debate.
"Conservative religious fringe groups are determined to divide Australians using misinformation and fear mongering about trans people. We're not interested in a part of our community being used as a new front for culture wars.
"Trans and gender diverse people are a part of all our histories and cultures. We celebrate their existence and will continue to lift up their voices and stories – not capitulate to the hate-fuelled agenda of a few loud bigots." Brown told OUTinPerth.
The report on Saturday has been highlighted as an example of how The Australian magnifies voices of people who are opposed to transgender rights and acceptance, without looking deeper into the research being promoted.
The submission to Health Minister Greg Hunt was put together by independent health sociologist Geoff Holloway, and has the backing of one of Australia's leading advocates against child abuse and trauma, Dr Suzanne Packer.
The document argues against the current treatments which see transgender people treated with puberty blockers, and later hormones. The document cites statements put out by the American College of Pediatricians, who are a religious based conservative advocacy group.
The American College of Pediatricians is a small group which is estimated to have 60 to 200 members, unlike the much larger American Academy of Pediatricians – which boasts over 60,000 members. Alongside being opposed to gender reassignment treatments, the ACP also argue against same sex marriage, gay people having children and abortion rights.
The submission argues against the current criteria used by psychologists in Australia saying they are inadequate because they consider gender dysphoria to be a "psycho-socio-cultural dis-ease".
Holloway argues that more focus should be given to "rapid onset gender dysphoria", despite there only being one widely disputed study that was published in 2018.
The group also dispute the introduction of the Australian Standards of Care and Treatment Guidelines For Trans and Gender Diverse Children and Adolescents, saying they are flawed.
The author of the paper call for new laws which would see people under the age of 18 not being able to access medical treatment for gender dysphoria, they also call on the government to stop all medicare rebates relating to medical intervention.
Additionally they call for the parents and carers of children experiencing gender dysphoria to be "rigorously assessed" when they are making decision about their children's medical care.    
The submission is endorsed by current Australian Senior of the Year Dr Suzanne Packer, who is a leading advocate for preventing child abuse.
Dr Packer began working as  a paediatrician in 1972 and has worked as a Community Paediatrician with a special interest in child abuse and abuse prevention since 1990, and she is recognised as a leading expert in child trauma and neglect. She retired in 2011 but continues to serve on the boards of several national organisations.
The esteemed health expert is a board member of Families Australia, a national organisation that strives to improve the wellbeing of families and children. Dr Packer sits on the board as the nominee of the National Association for Prevention of Child Abuse and Neglect, where she serves in the role of Vice President.
OUTinPerth contacted both organisations and asked if they agree with the submission's suggestion that the treatment of transgender children could be considered child abuse. Neither offered a reply.
The submission also has the support of Dr John Whitehall, a longstanding critic of how people with gender dysphoria are treated, and psychologist Dr Dianna Kenny who says she believes there is a massive and irresponsible misdiagnosing of gender dysphoria.
The small group argue that because there is a growing number of people seeking treatment for gender dysphoria, there is a need for a government inquiry, and all current treatments for people under 18 should be stopped. They say that many clinicians are opposed to the current treatment given to transgender youth but are they too afraid to speak up.
The article published in The Australian notes that Professor Michelle Telfer, who is the lead author of the current treatment guidelines, said in an interview last year that skeptics of gender dysphoria treatment were often downplaying the risk of harm and suicide that is related to the condition.
Professor Telfer also argued that the percentage of people who undergo gender reassignment surgery and then later regret their decision is also incredibly low.
The Australian did not share that the submission is also endorsed by unregistered political party United Tasmania Group (UTG) and radical feminist organisation Women Speak Tasmania.
Women Speak Tasmania has been described as a anti-transgender group, an accusation that has been denied by their spokesperson Isla MacGregor. She claims the group supports the protection and safety of transgender people, but she does not think "trans women are women."
While The Australian is quick to make the submission from sociologist Dr Holloway front page news, their coverage -and the submission itself – make no mention of the landmark Trans Pathways study that was conducted by the Telethon Kids Institute.
The largest ever survey conducted into the mental health of trans young people in Australia, and the first to include the experiences of parents of trans young people.
It found that while transgender youth did experience higher levels of depression, anxiety and suicide ideation, one of the reports findings is that the factors which cause mental health challenges for trans youth are largely external.
"As a society we need to accept gender diversity, and we need to provide support to young people, and their families, who are trans.", Dr Ashleigh Lin who headed the study told OUTinPerth back in 2017.
"It's not being trans that leads to poor mental health, its societal attitudes towards trans people that leads to these young people experiencing mental health issues.
The findings of the Trans Pathways study were published in the journal Psychological Medicine.
Graeme Watson
---

---
Do you need some support?
If you are struggling with anxiety or depression, support and counselling are available from:
Lifeline: 13 11 14 or lifeline.org.au
Beyondblue: 1300 22 4636 and www.beyondblue.org.au
QLife: 1800 184 527 and www.qlife.org.au
QLife are a counselling and referral service for Lesbian, Gay, Bisexual, Transgender and Intersex (LGBTI) people.