The Court Hotel reveal new Code of Conduct
The Court Hotel have today released an updated Code of Conduct in light of community concerns that the venue is no longer a safe space for the LGBTIQ+ community.
Posting on their Facebook page today, the bar wrote that they are "a venue to be enjoyed by all, regardless of sexuality or gender."
"Therefore, we ask that when you visit our venue you practice acceptance and celebration of this diversity by abiding by the following."
The updated codes outline the venue's requirements in the categories of Respect, Report, Restrooms, Represent, Removal, Regulations and Responsible.

"Anti-social behaviour will not be tolerated in our venue," the code reads under the Respect sub-heading.
"This includes intimidating, verbal or physical behaviour. It is not ok to ask someone if they have a penis, who the 'top' is, which one is the man/woman in the relationship or to stare wide-eyed at same-sex couples."
The code also outlines their trans/non-binary inclusive bathroom policy and urges anyone who feels unsafe to reach out to a newly assigned RSA Officer.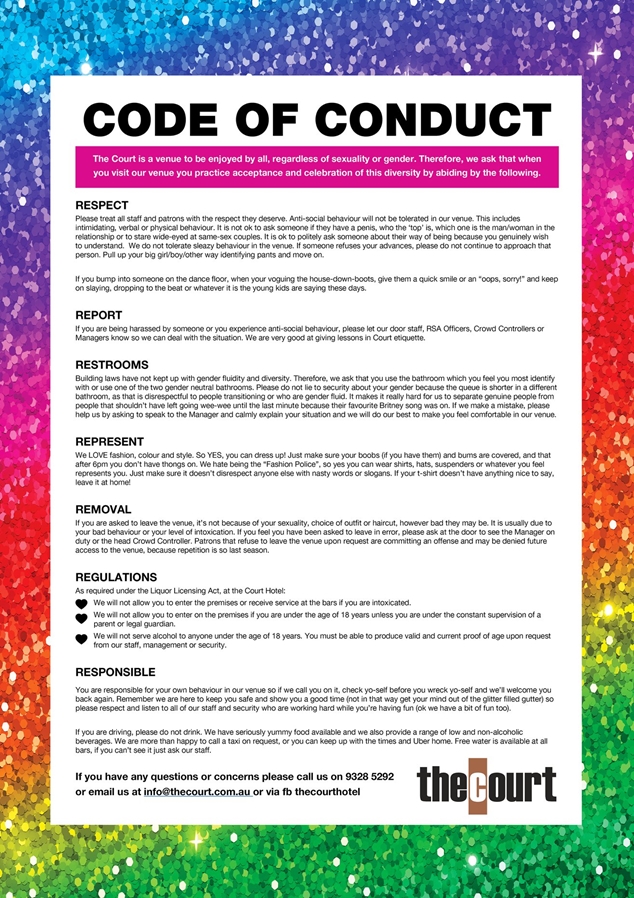 Many social media users have welcomed the announcement, praising The Court for taking swift action.
"This is great! Very inclusive and neutral. Its well written," one Facebook user wrote.
"Love you guys so much. Keep working on it," wrote another.
Others have asserted that the code doesn't go far enough, and note there is no mention of the LGBTIQ+ community specifically in the text.
"This is not good enough. Nowhere in this entire code of conduct do you mention the LGBTQI community, do you mention queerphobia in its many forms, do you indicate this is intended to be an LGBTQI space," one user commented on the post.
"I feel in no way reassured by this announcement."
Earlier this week the venue added a fresh coat of rainbows to the outside of the pub, hoping to show their commitment to the community.
Local drag performers will be coming together at The Court tonight, encouraging the local LGBTIQ+ community to come along, be visible and support the venue from 9pm. The unofficial drag 'take-over' coincides with the venue's regular Traffic Light Party.
OIP Staff