Track by Track: Wendy Matthews' 'The Welcome Fire'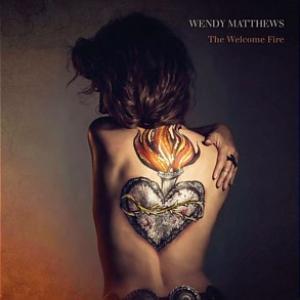 Wendy Matthews' new album 'The Welcome Fire' has just been released.
The new project sees Wendy teaming up with a great variety of Australian musicians to create what is arguably the best album of her distinguished career.
Featuring 10 solid tracks of contemporary adult music, the album is a consistent offering of quality tunes that it easy to play through from start to finish without reaching for the forward button any stage.
Follow You Down
This country tinged song which is the albums lead single kicks things off. It features the lovely opening line, "Somewhere in between  the darkness and the dream, I'll be there when you call."
The slow and warm track sets the pace for the relaxing album. Immediately your struck by Matthews incredibly distinctive voice. There's a great combination of guitars and violins on this song.
This song is co-written American songwriter Kim Ritchie. Matthews' describes Ritchie as a "true troubadour". The song is based around the idea of not running from your fears but turning around and facing them.
Amelia
Matthews told us that the recording of this vocal was her one and only take. Her vocal is a delicate balance of strength and fragility. The orchestral accompaniment on this song just makes it soar.
This track was created with Producer John Castle and singer/songwriter Megan Washington.
Feel Like Taking Your Man
The pace picks up with this true country tinged rock song. "Just for Fun, because I can, I feel like taking your man," declares Matthews. It sounds like the singer is relishing slipping into the character of woman who is able seduce the opposite sex at ease.
Little Boy
Opening with the sound of crickets and rollicking guitar, this is one tender lullaby. Describing the end of the day, Matthews promises a little boy that she'll sing him to sleep and keep him safe as long as he promises not to break her heart.
This song is written with Mark Sholtez. Matthews says the inspiration for the song was actually not a young boy but  a young deer that grew up on her property.
It Won't Matter
This tracks is steady paced and builds up gradually creating a feeling of jubilation.Wendy says this song is about "expressing yourself in the moment" and grabbing the opportunities before they fly by.
Keeping My Distance
Possibly the saddest track on the album. It opens up with Wendy's naked vocal without any musical accompaniment and slowly the music builds around the narrative. Matthews sings about the heartbreak of staying away from someone after they've done wrong.
This song was written with Rod McCormack, a respected musician in the Australian country music scene.
415 Wilson Street
Describing the house she lived in until she was nine years old this nostalgic song takes Matthews back to her native Canada. This tracks really taps into how much Matthews has traveled through out her life, and she sings "I'll always be the first to leave, no one will every tell me, goodbye".
Everything I've Done Wrong
Checking in at under three minutes this is the albums most upbeat track, creating a nice balance with the more serious songs. This song was written with Australian musician Josh Pike.
Who Am I
Most of this album is filled with acoustic and slide guitars but on this track the piano takes centre stage. Matthews sings to her parents, saying she won't miss the winter cold and frozen lakes, and not missing the place is part of "Who I Am".
It's Alright
Closing the album is a powerful and positive song that has gospel elements and bluesy guitars. As Matthews repetitively sings, "It's alight, it's alight, it's alright", you head off with a positive vibe.
The Welcome Fire is available now from Fanfare Records, and can be downloaded via iTunes.
Read More
03-08-2013   Wendy Matthews – A Welcome Return