#TransAtlanticDame: Charlie Hides talks Drag Race, history and Gaga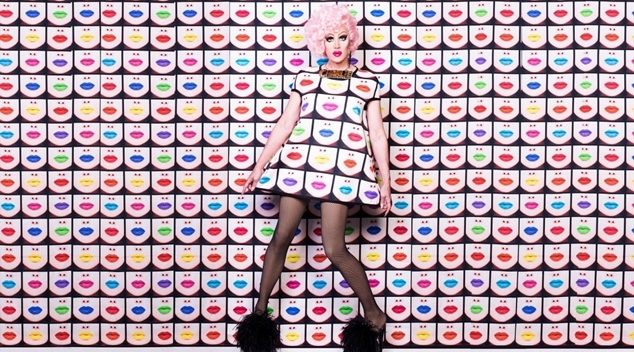 YouTube sensation and impersonation queen Charlie Hides is jetting back to Perth with an all-new show this month, following her international appearance on RuPaul's Drag Race.
The UK queen known for her online parodies of divas like Madonna, Lady Gaga, Lana Del Rey and more is bringing her live show to Connections Nightclub for two nights of comedy, music and all of the Season 9 T you could ask for.
We corresponded with the Transatlantic Dame from across the globe to find out how she handled reality TV and what she's bringing down under.
Well, we have to talk about Drag Race! Was it anything like you expected it to be?
It's harder than it looks on TV, just like Aja's make up.   
How have things changed since the show? You seem to have a very vocal and die-hard fan base!    
Well, thanks to the show that fan base has grown tremendously.  Now a whole new generation is watching my old YouTube videos and coming to my shows.  I also get recognised in airport Duty Free shops making it much harder to shoplift.
You also opened up about losing friends to HIV/AIDS while on reality TV in a very touching moment – do you think today's queer youth are aware enough about the journey our community has been through?
I don't think they can imagine the horror my generation witnessed and survived.  For years we were going to a different funeral every week.  I watched almost all of my friends die very slow and painful deaths then saw the families that had disowned them years before swoop in after the funeral and kick their son's life partner out of the home they'd made together.
The right wing "Moral Majority" and Fundamentalist Christians were saying that AIDS was a punishment from God and that "fags deserved to die". It was a horrible time.  It's not an easy topic to broach in a comedy show but I do find away to make it funny in my show and still honour the contributions of the older generation of queer activists.
Did you feel on the back foot because you were teeny bit more mature than the other girls?
Only when it came to cheer leading. On the runway my looks slayed every single time! I looked twice as good as bitches half my age.
Did Lady Gaga say anything personally about her impressions? What was meeting Gaga like?  
Meeting Gaga was surreal. Fortunately she's got a great sense of humour and told me she loved my videos and thought they were very funny.
Give us some off-screen dirt from the Drag Race set.
They keep the set freezing cold; the first day I was there I saw penguins by Michelle Visage's feet.
What was your favourite moment on the show?  
Filming one on one with Ru as he drove us around Hollywood in his SUV, we laughed for the entire 30 minute ride.
How has your experience on the show changed your live act?  
Well fans are really interested to get all the T and behind the scenes gossip so there's a fair amount of material in the act about Season 9. I'm also toying with the idea of learning to death drop because apparently I'm not a real drag queen unless I'm willing to risk dislocating one of my plastic hips.
Do you have any new impersonations up your sleeve – or anywhere for that matter?      
My Melania Trump has been going down a storm so I think I need to continue developing her. Last time I was in Perth I got stopped in the airport by a fan who said they loved me and asked for my autograph. When I signed it they said, "Charlie Hides? I thought you were Gina Rinehart!"
Charlie Hides' #TransAtlanticDame will be at Connections Nightclub on Friday 21st and Saturday 22nd July at 8pm. Tickets and more info available at ticketek.com.au
---
Support OUTinPerth
Thanks for reading OUTinPerth. We can only create LGBTIQA+ focused media with your help.
If you can help support our work, please consider assisting us through a one-off contribution to our GoFundMe campaign, or a regular contribution through our Patreon appeal.