Turn up the radio!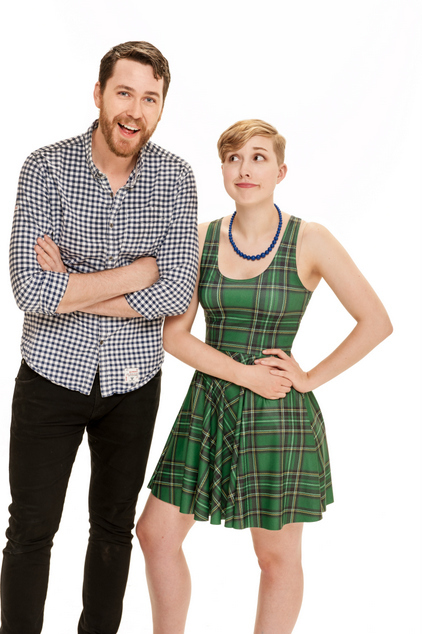 The hilarious Joe Mooney and Sophie Joske have a Fringe World show opening tonight, we know first hand that they are too very funny people, so we cant wait to see their show 'Radio FM'. Sophie Joske gave us the inside word on what the shows about.
Tell us about your show, what's it all about?
It's a very tongue-in-cheek look at commercial radio through the story of two presenters at 'Perth's fifth-favourite radio station', Radio FM. The station itself is pretty dodgy, desperate for ratings and has a lot of silly games and segments to try and get listeners on board. It's very fun.
I'd also like to note that Radio FM is a fictional radio station we made up for the purpose of our theatre show, not a real radio station as there has been some confusion.

Comedians often used to get jobs in radio, (nowadays it seems to be reality TV winners) – would you ever sign up for a breakfast radio show? What would your radio name be?
Look, I'm not one to rule out potential career options. I think I'd probably go by my own name to be honest, that seems to be what people do these days. Plus if people heard my last name on radio frequently they might be more likely to pronounce it correctly.
Last year you had a successful one woman show at Fringe, now you've team up with a side-kick – is this more fun?
Well it's myself and fellow actor Joe Mooney on the poster, but this show really is a trio effort. Nathan Jamieson is the behind-the-scenes genius on this show. He's responsible for all the awesome sound elements that really make up the show and the original concept of the show was his idea. We have a lot of hilarious ads, songs and sound bites.
The three of us wrote the show together, and it's been awesome to have more people to bounce off while making a show, but it does mean I've had to be a bit less of a control freak than I usually am with a script. It's a very different vibe and process to my one woman show, and I'm excited to get it out there.
Are you a morning person, could you do a 4am start for breakfast radio? What are you like in the morning?
I'm definitely not a morning person, so it's fortunate that our 'breakfast radio show' takes place at 6:45 in the evening. But I have been having a lot of fun as a pretend radio host, so I wouldn't rule out the possibility of doing it for real. I just might need a better alarm clock.
You're not the only radio themed show at Fringe World, have you checked out the competition?
There is such a massive amount of shows in this year's Fringe. I think as an artist the only way to stay sane is to not worry too much about what everyone else is doing and focus on your own work.
You actually do a lot of radio voices for commercials, we know you've played a concerned Mum, what's it like recording commercials?
I love recording commercials. It's very fun and I like that my voice can take on a whole different persona that's totally different from who I am and that people probably wouldn't guess if they saw what I look like.
Radio FM opens tonight at Rosie O'Grady's and runs through to Saturday. Tickets available from Fringe World.
Graeme Watson, image: Shaun Ferraloro
Sophie Joske is a former employee of OUTinPerth.