Victorian government announces overhaul of Safe Schools program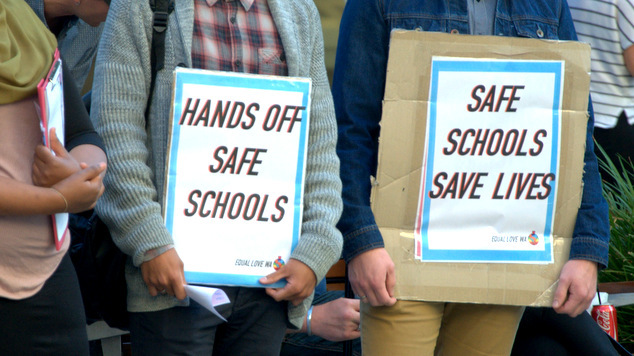 The Victorian government has informed LaTrobe University that it'll be moving the Safe Schools Coalition program to the state's Department of Education, severing the university's contract six months early.
The move comes after the Andrews government faced pressure from conservative politicians, family groups and religious lobbyists about the program and it's controversial co-founder Roz Ward.
Critics have attacked Ward's personal politics and claimed that the program she co-founded is a covert Marxist plan to introduce children to radical gender theories.
Earlier this week a story at The Guardian highlighted that the academic has become the target for a torrent of abusive emails and phone calls, and death threats have become a regular occurrence.
Victorian Education Minister James Merlino told Fairfax Media that the campaign against the anti-bullying program had been disgraceful.
"I think the campaign against Safe Schools has been quite disgraceful from people who should know better and do know better, but are using it as a political tool," Merlino said.
Merlino said the government remained committed to delivering the program that aims to reduce bullying of gay, lesbian and transgender students. The Education Minister said by bring the program 'in house' it would allow teachers to have greater access to resources and support.
The Education Minister said the program was always about addressing the high level of bullying experienced by LGBTI students.
"Safe Schools has always been about more than just one person. It's about stopping the bullying and harassment of young people who are same-sex attracted and gender diverse. We know that it works – and we know that it saves lives."
Replacing LaTrobe University in maintaining the program will be the government's existing LGBTI Reference group.
The group, which is co-chaired by Victoria's Gender and Sexuality Commissioner Rowena Allen and education parliamentary secretary Judith Graley, will also welcome new members, bringing in principals, students, parents and recognised anti-bullying experts.
OIP Staff
Tags: :GBTIQ, anti-bullying, AusPol, Bisexual, controversy, diversity, gay, gender theory, Intersex, James Merlino, La Trobe University, Lesbian, LGBT, LGBTI, Martin foley, Politics, Ros Ward, safe schools, trans*, transgender, Victoria