Young People Podcast Their Pride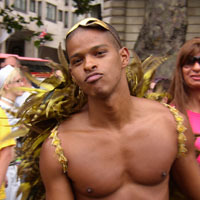 Pride London has moved further into the digital media space providing regular podcasts on the lead-up to the two-week festival and parade. The podcasts, recorded and produced by young people as part of the youth section of Pride London, aim to help others understand their identity.
The first podcast visits the 21st London Lesbian and Gay Film Festival at the BFI, talking to directors and writers about LGBT representation in film. The programme also has a discussion with seven young LGBT people under 25 about their experiences of gender and sexuality.
As part of the growing interest in the two-week Pride London Arts festival, the discussions will use art and culture as a way to discuss homosexuality today, and draw out opinions and views of those who have only grown up with more liberal acceptance and equality laws of the last ten years, post Queer As Folk.
The podcast called Straight Talking: another perspective is produced and presented by Ryan Haynes and Bindya Solanki who appears on BBC Asian Network. It can be downloaded from the Pride London website.
'We hope young people will tune into the podcast to get an idea of [email protected] activities', said Ryan. 'We'd like people participating through email, or submitting features and discussions of their own. This podcast is important because it gives people an opportunity to put their opinions across and get issues discussed. There's not a talk radio programme in the UK that is accessible to youths and discusses our issues, let alone LGBT issues'.
'This is the further development of our strategy to use the web to reach a broader audience for Pride London' said Colm Howard-Lloyd, Communications Director of Pride London.
'We receive nearly two million visits a month to the website, and by increasing the content, we hope to create a dialogue with people outside London and the UK to help support LGBT rights internationally'.
Here are some of the highlights from the first episode:
'Representation is still two-dimensional'.
'The gay scene is not going to change; it's always going to be the same'.
'When I get called poof – at least I walk down the road with pride about it'.
'I think there should be more gay people out in the media and more gay politicians rather than being outed by the magazines and blaming them, or using it as fashion'.
'One thing I hate about Government is they should stop using sexuality because it's not to do with sex, it's your gender, preference choice. Sexuality is how you prefer to have sex not to do with the gender you like'.
Pride London, a registered charity, is the English capital's annual gay, lesbian, bisexual, transgender cultural festival. The climax of the festival will be a parade through central London on 30 June 2007, expected to attract over 500,000 visitors.