Tinsel and Light with Tracey Thorn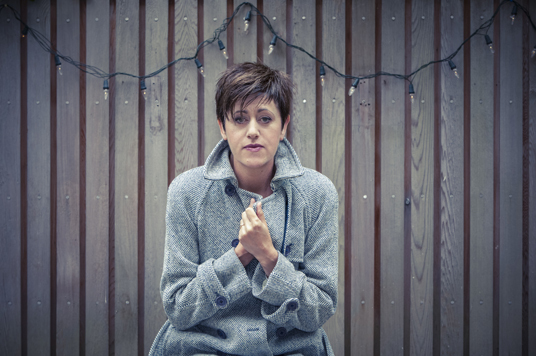 Each year singer/songwriter Tracey Thorn would watch the annual releases of Christmas albums and wish that she too had a festive season record. Last Christmas she vowed to put her dream into action and as soon as the decorations were taken down, began work on her new collection Tinsel and Lights.
Thorn and her husband, Everything But The Girl collaborator Ben Watt, live in London with their three children. The whole family contributes to the new record, which features a diverse range of songs from musicians like Stephen Merritt, Dolly Parton and The White Stripes plus two new songs penned by Thorn herself.        
Is it intimidating to write a Christmas tune? You know if you get it right, it might be sung forever.Hmm, that actually never occurred to me. I think when you write a song you're not really thinking about 'forever', you're just trying to get the lyrics to scan and still say what you mean, and the tune to carry you somewhere lovely.
You started making this record in January, was it hard to get in the Christmas spirit – just after Christmas? Yes it was. I'd taken down the tree, packed away all the decorations, and breathed that sigh of relief you do every year when it's all put away and then – RIGHT THEN – I had to start getting all Christmassy again, and thinking about sleigh-bells and snow.
How did you select your collaborators for this project? I worked mainly with people I've worked with before. Steve Pearce played bass with me as long ago as EBTG, Leo Taylor played drums on my last two solo albums, NIck Ingman, who did the string and brass arrangements is, again, someone I've worked with since EBTG. And then Ben Watt is also someone I know quite well. So probably Green Gartside (Scritti Politti) is really the only new person on this record, and it was very nice to finally get to sing with him – we've been planning to do something together for a couple of years, and finally it happened.
The selection of songs is diverse, staying mostly free of the well known Christmas songs, did you know all these tunes already, or did you go searching for songs? I really went searching for songs, and tried to find some that I didn't know inside out, so that they'd seem fresh to me. Snow by Randy Newman was a completely new discovery. I'd never heard it before. Hard Candy Christmas I barely knew at all. And the Stephin Merritt song, Like a Snowman was suggested to me by a fan, when I was tweeting about looking for songs for a Christmas album. He replied and suggested it to me, then found a link to the only version of it so I could hear it. Really helpful!
What's Christmas like at the Thorn/Watt household?  Oh pretty traditional. Kids get over-excited. Stockings get hung up on Christmas Eve. Adults drink plenty of wine at lunch and sit with hats on till late into the afternoon. Much telly is watched. Food carries on being brought back to the sofa long past the point when you can possibly be hungry. It's lovely.
Your autobiography is coming out in the New Year, what's the writing process been like?  Very enjoyable, I actually started writing a few years ago, when I thought I'd retired from making music. Then the process of writing about my career reminded me why I'd had one in the first place, and so I went back to making records. Then last year I found the stuff I had written and it seemed a shame to leave it languishing under the bed, so I finished it, sent it to a publisher, and here we are.
Tinsel and Light is out now.
Graeme Watson, image: Edward Bishop