It's Mario, Queen of the Circus!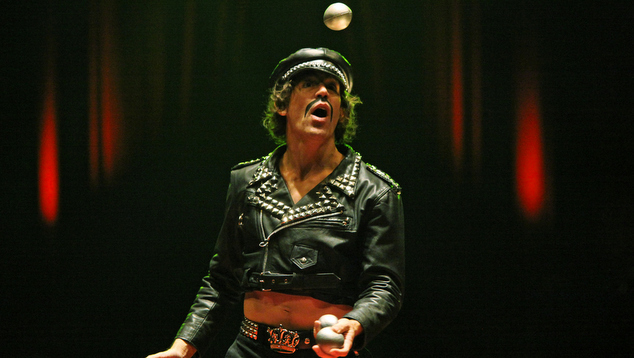 The superb cabaret show 'La Soirée' returns to Fringe World after a sensational season in 2015. Many of the outstanding performers from are back, alongside new acts, like Mario, Queen of the Circus!
The bearded juggler with a never-ending love of Queen is one of the new performers, we sent him some questions about moustaches, juggling, partying and his never ending love for Freddie Mercury.
Beards are back in fashion do you think handlebar moustaches will make a comeback soon?
I'd like to think so but the beard style seems to say, "I just let my face grow whatever it wants!" And the less maintained it appears, the better.  The moustache is a more finely coiffed ornament.  I find it ironic that those bushy boring hipster mess-o'-beards are often worn by guys who take more care of their little haircuts than military men.
What the most balls you've ever juggled?
I used to practice 6 but I only practice and perform with 5, it's plenty challenging for me.
 What's the hardest thing to juggle? 
Things that are badly balanced and of different weights.  It's important to note that most of the hard things in juggling do not look that impressive, it's all about the vibe.
You love the music of Queen, have you met any of the members?
I'm so glad you asked.  Brian came to the show when we were in London seven years ago and I nearly fainted on stage.  He loved the show, he hung around backstage after and we chatted about Freddie Mercury and their current tour and 'We Will Rock You" The Musical', and it was awesome.
He is a generous, sweet human being who has no trouble being both a PhD in astro-physics and a rock and roll icon.  It was particularly interesting when he wistfully spoke of Freddie and his words plucked him back into real life and out of the abstract conceptual world that megastars who have died before their time often become in our minds.  Here was his best mate reminiscing about old times.  Dr May also made an appearance on our opening night in London's Southbank in October.  Again, he graciously hung about, chatted and posed with us in photos.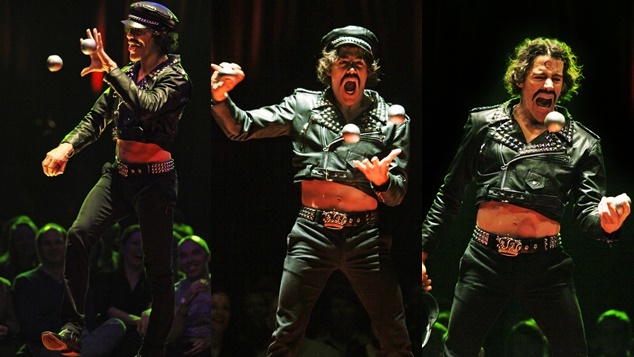 What's the most unappreciated Freddie Mercury / Queen song?
I really dig the first album that hardly gets any airplay.  Sure, it's raw and a bit derivative of the early 70's rock sound they were upholding but they also contain threads of the genius of what they would become.
Specifically 'Keep Yourself Alive', a Brian May tune that stands out.  It's also of note that nowadays the music business would never continue to invest in a band whose 1st album sold as little as theirs did.  It was a different time back then and thankfully companies had more patience.
As a career partier, what are your tips for a good night out? 
Know Thyself.  For instance, at the hour when obligatory shots are passed around, I will sooner throw one over my shoulder rather than slip over the edge. The hard won knowledge of one's limits is essential to maintaining health and friendships.
Mario, Queen of the Circus appearing in LA SOIRÉE. Friday 22 January to Sunday 6 March 2016 at La Soirée Spiegeltent in the Museum Gardens at the Perth Cultural Centre. Head to Fringe World for tickets.
Graeme Watson,images: Prudence Upton