ACL angry at Queensland police for taking part in IDAHoBiT Day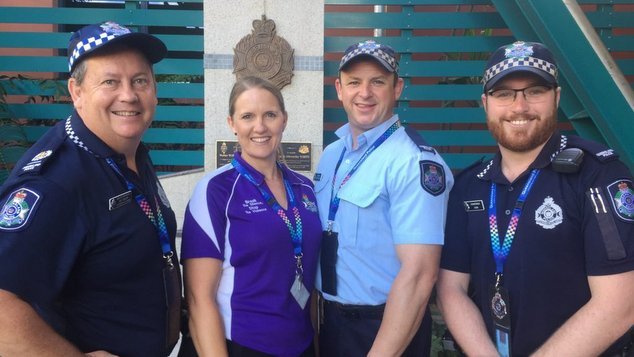 The Australian Christian Lobby (ACL) has complained about Queensland Police supporting International Day Against Homophobia, Biphobia and Transphobia (IDAHoBiT).
Wendy Francis, the ACL's Queensland Director, has said it is inappropriate for police to be seen wearing a rainbow coloured lanyard.
Francis said the rainbow lanyard is an endorsement of marriage equality, and "re-shaping" society's understanding of gender. The Christian lobbyist said she was not endorsing bullying but the rainbow emblem had deeper connotations.
"Of course no one wants to see any member of the community bullied or discriminated against for any reason," Francis said. "And of course 'phobia' towards other people is irrational.
"But the rainbow political flag, adapted to police uniform lanyards represents a political agenda for marriage and re-shaping society's understanding of gender.
"Exerting soft pressure on police to identify with the rainbow political agenda for redefining marriage and teaching children their gender is fluid through so-called 'Safe Schools' is not appropriate," Francis said.
Francis said rainbow politics had been given special treatment by Queensland police as other social issues had not been issued lanyards for their causes.
"This is the only lanyard that has been issued in support of a specific group. There is no lanyard supporting campaigns against domestic violence. No white lanyard for white ribbon day. No lanyard for indigenous people or for supporting refugee rights. There is no red lanyard on the annual Day for Daniel (Morcombe)."
The Australian Christian Lobby representative suggested that if the police and army are permitted to wear rainbow lanyards to show support to the LGBTI community, personel should also be allowed to show their individual support for other political positions such as being opposed to abortion.
"If police and army uniforms are allowed to be used to promote one groups' political objectives, I look forward to the day when the pro-life movement's little feet pins can be worn with pride by police and army personel." Fracis said.
Queensland Police announced their participation in IDAHoBiT Day on their website saying they were committed to reflecting the diversity of society including the people they protect, and those who serve within their ranks.
"The QPS is committed to ensuring that, as a Service, we reflect the diversity of the people we protect.
"Our involvement in today's event shows our support for community members who identify with the LGBTI community. It also shows the QPS' support for QPS officers and staff members who identify as LGBTI themselves."
Queensland police began taking part on the state's annual Pride parade in 2015, and joined the IDAHoBiT Day celebrations last year.
The service implemented a cultural review in 2015 after a series of reports about bullying and discrimination within it's own ranks.
While Queensland Police have many gay, lesbian, bisexual and transgender officers serving today, only a few years ago it was a different story. A 2010 report focusing on homophobia in the state noted that there were no LGBT members of the force.
OIP Staff, Image: Queensland Police in Gladstone.