Advance Australia: New activist group launches as 'conservative GetUp'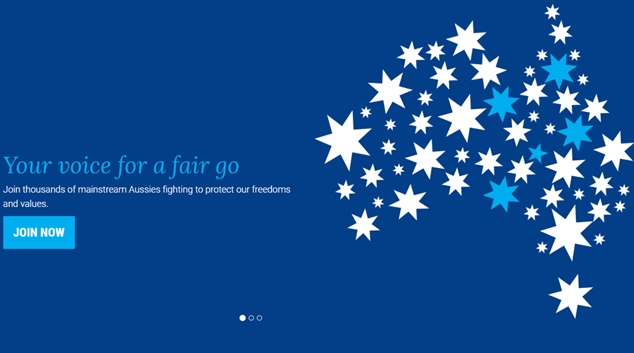 A new right-wing advocacy group has launched this week with the support of an advisory council of high-profile Australians.
Advance Australia's website cites their missions statement as being "to protect, defend and advance mainstream values and freedoms while championing the institutions which strengthen the Australian way of life."
The new activist group's advisory board includes former Deputy Medical Secretary of the Australian Medical Association Dr David Adler, former Chairman of the Deutsche Bank Australia & New Zealand, Australian Securities Exchange and the Australian Broadcasting Corporation Dr Maurice L Newman, free speech advocate/wife of former Coalition minister Nick Minchin and Kennards Self Storage CEO Sam Kennard.
Writing for The Australian, National Affairs Editor Simon Benson writes that the movement has launched "a bid to rival union-backed activist group GetUp and vowed to campaign as a registered third-party organisation against the Left ahead of next year's election."
Advance Australia's website also lists the group's goals, such as "protecting personal freedoms", "restoring a fair go & family values" and "fighting political correctness" – specifically taking aim at the LGBTIQ+ community.
"Political correctness is one thing, but the culture of political correctness has given rise to the more insidious "identity and gender politics" – where people are increasingly divided and pitted against each other along, racial, sexual and gender lines," the website reads.
"Elites and left wing activists have narrowed the word "correctness" to fit their world view," the page continues, "And in their world mainstream culture and traditional families are frowned upon, sexuality is brandished as identity, gender can be fluid with over 40 different categories, and victimhood is a badge of honour as well as a free pass."
Advisory board member Maurice Newman told The Australian that now was the time to challenge left-wing activist groups such like GetUp.
"We are in the position of the battle of Stalingrad," Newman said, "We have retreated to such an extent we need to hold our group somewhere and start to push back."
"We have to put our hand up and say we believe in this country. People like GetUp are so well funded."
GetUp have responded to Advance Australia's launch on social media, joking that "a few grumpy rich white dudes are starting up a new corporate lobby group in the latest attempt at a right-wing imitation of GetUp."
"They have a focus group tested name, and a populist policy platform for the masses: taxpayer funded coal, dodgy tax loopholes for wealthy shareholders, and long walks on their private beaches."
OIP Staff