Always Colourful Dave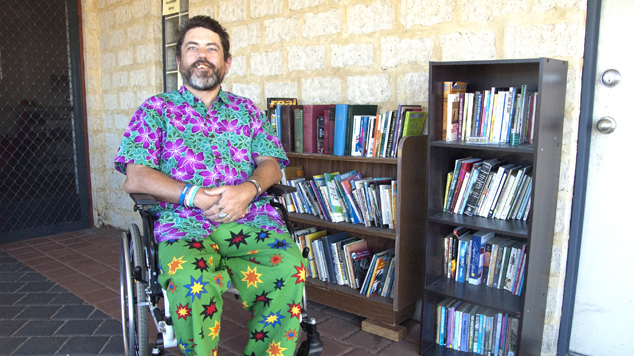 The LGBTIQ community is made up of many different and vibrant characters. This month we got to know Colourful Dave a little better.
You've probably seen Colourful Dave at Fairday or The Court Hotel, he's pretty easy to spot because he's never gone out in a sedate outfit.   Meeting Colourful Dave at his home I confessed that despite meeting several times before, all I knew about him was that he's a committed Christian, sometimes uses a wheelchair to get about and he always lives up to his name.
Colourful Dave shared that he grew up here in Perth. Impressively his father built the family home in the northern suburbs. Diagnosed with severe epilepsy in his youth Colourful Dave's suffered several head injuries which have given him additional challenges in life. "My epilepsy is quite severe," Colourful Dave shared, "I have several fits each day."
Living on his own is quite challenging and finding a housemate is one of Colourful Dave's goals, but he said for many people having a housemate with a disability would be quite hard.
Colourful Dave said he decided to adopt his name after a friend started referring to him as such. "It was a nickname that I friend of mine started using and I liked it." Colourful Dave shared, "I've always loved colours, all my life. Some of my family think I'm a bit strange but they just don't realise this is just who I am."
"I've always had faith, it's always been something I've had. Growing up I've always had a faith in God and I became a Christian when I was aged ten." Early in his life Colourful Dave was involved in the Uniting Church but today he meets likeminded gay Christians at an informal Church group.
Colourful Dave keeps himself busy with several different projects. He runs a book exchange from the carport of his house, living on a busy street in a busy neighbourhood he has many customers. He's also written a book about his life experiences. In 'From Destination to Finding Destiny' he shares he struggles with mental illness and accepting his sexuality and reconciling this with his religious beliefs.
"Writing the book took a long time," Colourful Dave said, "I had a quite a bit of help from other people."
Colourful Dave hopes the book will be helpful to anyone else in a similar situation. He has spoken at conferences and to community groups about his experiences.
Looking forward Colourful Dave said he'd like to see his self-published book distributed more widely, and hopes to attract the attention of a publisher, and he'd like to create a website to attract more attention to the project.
To get a copy of Colourful Dave's book for only $25.00 send an order to Mr Colourful Dave, PO Box X2222, Perth, WA, 6847