Bibliophile | André Aciman returns with love odyssey Enigma Variations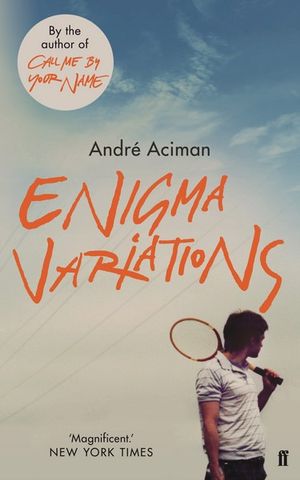 Enigma Variations
by André Aciman
Faber & Faber
The author of Call Me By Your Name has put together a collection of linked stories about love in a book named after English composer Edward Elgar's orchestral composition featuring variations on a theme. The five stories are first person accounts from Italian man Paul who starts off by recalling his first infatuation with a cabinet maker who worked for his parents during their summer holidays.
"His gaze didn't just scare me. It troubled me, as if staring into it I'd risk not only offending him but also exposing some sinister, shameful secret about myself I did not wish to disclose. Even when I tried to return his glance to reassure myself her wasn't as threatening as I feared, I still had to look away. He had the most beautiful face I'd ever seen, and I wasn't brave enough to look at it."
Paul's memories ten years later are all about the unrequited desire, but also about confusion that his 12 year old self maybe wants the carpenter to be his father. The realisation of the intensity of longing continues in adulthood when Paul is living in New York with a woman called Maud but lusting after an Adonis at his tennis club called Manfred. He describes being in love and total agony as lust-filled meditations take over his life.
Torn between Maud and Manfred, his desire does not have gender boundaries. "In a bus, on a busy street, in class, in a crowded concert hall, once or twice a year, whether for a man or a woman, my heart still jolts when I spot your look-alike. We love only once in our lives, my father had said, sometimes too early, sometimes too late, the other times are always a touch deliberate."
Eventually Paul becomes the target of obsession from a young woman he is old enough to have fathered, but this is more than a history of loves gained and lost. As he recounts the loves of his life, the objects of desire eventually move on, leaving his with a deep longing. He reflects that as we move through life we have more identities than we care to admit.
"For every life we live, there are at least eight others we can't even begin to touch, much less know the first thing about. Maybe there is no true love or false life – just rehearsals for parts we might never be lucky enough to play."
Lezly Herbert
 After some new books? Head to the Book Depository