Andy Bell Releases New Solo Album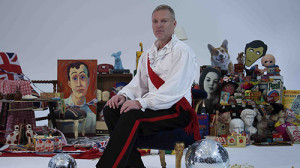 Erasure's lead singer Andy Bell is releasing a new solo album which has been described as the most serious work of his career.
The theatrical work is titled 'Torsten, The Bareback Saint' and is about a gay man watching his partners affected by the AIDS epidemic.
Described as theatrical song cycle, the 22 track album is due to be released in late July.
Bell has previously released two solo albums and as Erasure's front man has 15 albums of tunes. Their most recent work was their 2013 Christmas album. Later this year the band is expected to release a new album titled 'The Violet Flame'.
The singer revealed that both he and his long term partner Paul Hickey were HIV positive in 1998. Hickey passed away in 2012 following a long illness.
The singers HIV/AIDS releated work comes at a time where new transmissions of the disease in the United Kingdom are at an all time high.
Bell will perform the songs from his new album in a one man show at the Edinburgh Fringe Festival in August.