Angus & Robertson apologise for selling gay conversion therapy books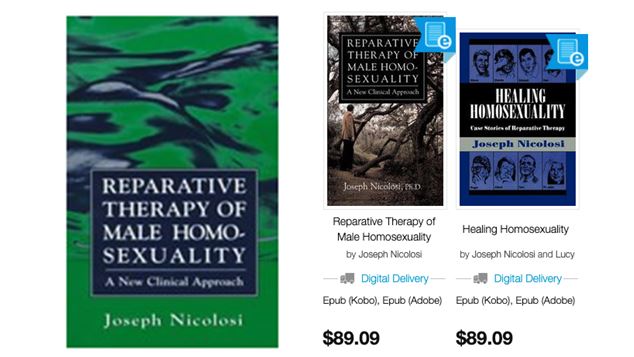 Bookstore Angus & Robertson has apologised for selling texts about gay conversion therapy and has vowed to remove them from their online stores.
The move came after Equality Australia launched a petition calling on Australian booksellers including Angus & Robertson and Dymocks to remove the books. Reparative Therapy has been made illegal in many states of the USA and last month online bookstore Amazon removed titles from their stock.
Tony Nash, the CEO of Angus & Robertson's parent company Booktopia said the company would immediately move to remove the books promoting cures for being gay from their websites.
"It's absolutely deplorable…this is just not acceptable for us," Nash told 7News.
Speaking to OUTinPerth, a company spokesperson confirmed that the process of removing the titles would take some time due to the way the company's online business is structured.
"Providing a list of products to be removed and or deadline of when this is going to happen is impossible. This is because we receive millions of SKUs (stock keeping unit) through automated data feeds constantly from publishers, suppliers and self published authors.
"We have over 4 million active SKUs on our site and the majority are managed automatically. We need to perform manual searches and then these titles will need to be scrutinised further and if to be removed be removed manually.
"In saying that, curating inappropriate content off our website is a manual ongoing task that Booktopia is committed to and has dedicated resources who continuously perform this function. We can confirm that we have now identified a large list of titles based on key word searches and are following our internal process to vet and remove if appropriate.
"We will continue to do so when we are prompted by our internal alerts as well as our customers and the media community alike." the spokesperson said.
One of the main authors health advocates have highlighted are books by author Joseph Nicolosi. The psychiatrist, who passed away in 2017, was dedicated to delivering treatments that declared people could be trained to become heterosexual.
Nicolosi was the founder of NARTH, The National Association for the Research and Treatment of Homosexuality. Nicolosi argued that most homosexuality was caused by traumatic experiences that occurred in people's formative years.
Author Stephen Fry challenged Nicolosi about his practices in his 2013 documentary Stephen Fry: Out There.
In the documentary Dr Nicolosli said a third of his patients were teenagers. In 2012 California introduced laws that stopped therapies of this nature being delivered to people under the age of 18. The law was challenged but upheld.
The author's son Dr Nicholas Nicolosi, who is the head of the Reintegrative Therapy Association, has followed in his father footsteps and also argues that homosexuality can be treated.
In an article for The Daily Signal Dr Joseph Nicolosi Jr criticised Amazon for removing his father books from their site.    
"Today, he and many other families will now find fewer online resources than ever—not because science dictates their removal, but because LGBT ideology has shouted down sound science." Dr Nicolosi Jr claimed.
Graeme Watson, Note: Dymocks did not respond to requests for comments. 
---