Aram Hosie Speaks at the Isabelle Lake Memorial Lecture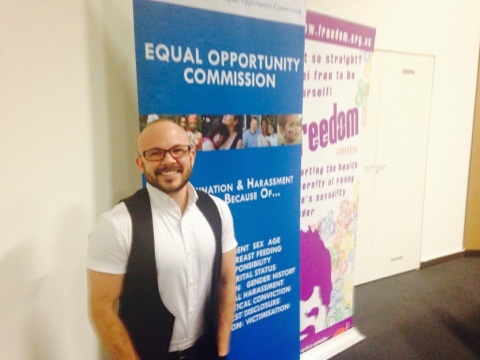 The second annual Isabelle Lake Memorial Lecture took place at the University of Western Australia on  Wednesday the 26th of March.
The event commemorated the life of Isabelle Lake, an LGBT activist who passed away in February 2012 due to leukaemia. Lake was an active member of the queer community who was particularly passionate about the rights of Western Australia's trans* people.
Lake's family, working with the Freedom Centre, created the Isabelle Lake Memorial Fund, which was launched in February of this year.
The fund gives the opportunity for local trans* people under thirty years of age to apply for financial assistance to cover some costs of services, activities or goods that will advance the health, education and/or alleviate poverty of trans* young people.
The lecture was attended by many of Lake's loved ones as well as members of the community who wished to become more educated on issues facing the trans* community.
The lecture's Keynote speaker was Aram Hosie, who has been fighting for a number of legislative changes in support of Australian trans* people for a number of years. Hosie spoke about the struggle for trans* rights in Australia and particularly Western Australia. He drew inspiration from Doctor Seuss' 'Oh, The Places You'll Go' to discuss the progress made thus far and the changes the community has yet to win. One of these achievements has been Australia's passport system, which now allows citizens to display 'Male', 'Female' or 'X' according to their identity.
Another important step was the modification of requirements to have one's gender legally changed, which previously required citizens undergo surgery before they are legally allowed to change their gender, whereas now in W.A. one's gender can be legally changed once they are undergoing hormone therapy.
Hosie said he would like to move towards a more human rights based approach in which people can select their legal gender on the basis of their own preference rather than a certain level of intervention, but the level of change that had been achieved in the last few years was inspiring. The struggle for trans* rights is an ongoing battle, but Hosie has shown that significant change is indeed possible.
Sophie Joske