Archbishop declares Anglican Church in crisis over marriage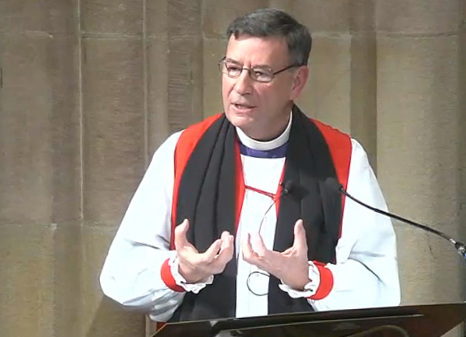 Sydney's Anglican Archbishop has declared the church is in crisis over the issue of recognising same sex marriages, but his colleagues from other states have taken a less extreme reaction.
Archbishop Davies has suggested that the church is facing a significant split over different approaches to same-sex marriage.
The Archbishop moved to water down comments he made last week where he said people who supported marriage equality should leave the church.

Archbishop Davies said his comments were directed at "the bishops and those who want to change the doctrine of the church", not to everyday churchgoers, he said. "I would never say that to people in the pews. They are our people."
The Archbishop of Melbourne, Philip Freier, has described Archbishop Davies claim of a crisis as a "strong word" and suggested the issue of recognising marriage equality is a social issue rather than a religious issue.
Meanwhile the Queensland branch of the church issued a statement reassuring parishioners that they understood marriage was an important issue to many people and they stated that they did not want to see anyone leave the church over the issue.
Archbishop Davies told the Sun Herald newspaper that gay and lesbian people were welcome in the church but they should realise homosexuality is a sin in the Anglican faith. The Archbishop said he was supportive of the statement made by Israel Folau that suggested a long list of people were 'heading to hell'.
"If you don't believe in Jesus and follow his ways then you are going to hell," Dr Davies said. "It's imperative for me to warn people. It is a gospel issue, and we are about the gospel." Archbishop Davies said.
The Sydney Diocese has been upset that some regional dioceses in Wangaratta and Newcastle  have suggested offering blessings for same-sex unions.
OIP Staff
---