Archbishop Freier: Anglicans can accept yes vote in marriage plebiscite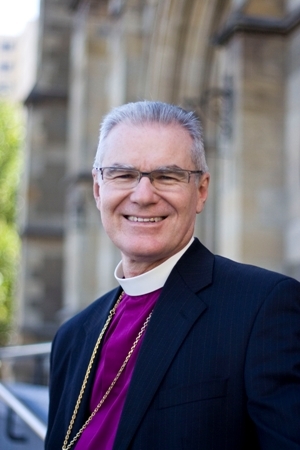 Melbourne's Anglican Archbishop Peter Freier has declared that the Anglican Church should be able to accept the wider population wanting to see marriage equality in civil marriages while maintaining  the church's position that religious weddings can only be performed between people of opposing genders.
Archbishop Freier has written to Australia's other Anglican Archbishops outlining his belief that if Australian's vote for civil marriage to be performed between same-sex couples it would not affect the church's delivery of traditional marriage services.
"Should the vote be in favour of same-sex marriage as suggested by opinion polls, the church must accept that this is now part of the landscape," the Archbishop wrote.
Archbishop Freier said it was important that any debate leading up to the proposed plebiscite should be respectful.
"I am very concerned that the discussion does not become harsh or vilifying – on either side, for it is not only Christians who have sometimes failed on this score."
The Archbishop said the church should aim to be more pastorally sensitive towards gay and lesbian people.
The Archbishops comments have received a mix response from marriage equality advocates. just.equal, the breakaway group from Australian Marriage Equality who are opposed to the plebiscite have dismissed the Archbishop's support arguing that the plebiscite will lead to greater division within the church and the wider society.
The group said a plebiscite campaign will divide congregations and inflame the Anglican Church's "culture war about homosexuality".
"Just because Archbishop Freier wants a plebiscite to be respectful doesn't mean it will be." said Ivan Hinton-Teoh, the group's spokesperson.
"We are already seeing hateful flyers and pamphlets being distributed and this will increase a hundredfold during a plebiscite."
"The Archbishop is letting down his own congregations because a plebiscite will divide his parishioners, tear families apart and inflame the culture war about homosexuality within the Anglican Church."
"The damage a plebisicte will cause to the Church, to the LGBTI community and to the fabric of Australian society could take a generation to heal."
"I would expect the Church to accept a positive plebiscite result but I would also expect it [to] accept a majority vote in Parliament."
Mr Hinton-Teoh dismissed Archbishop Freier's claim the Government has a mandate for a plebiscite.
"The Government failed to provide any details about the plebiscite before the election and therefore can't claim a mandate."
The Archbishop's comments have been welcomed by Australian Marriage Equality who ave sad they are pleased to see a religious leader recognising that the proposed legislative changes will have no impact on religious marriages.
"Like the Archbishop we share his belief in the value of life long committed relationships and the simple desire of two people wanting to build a secure future," Francis Voon, Faith Outreach Coordinator for Australian Marriage Equality said.
"Marriage Equality will ensure in Australia all couples will be entitled to the same dignity and status for their committed relationships.
"We would ask everyone to remember that words can do damage and this debate is about the lives of LGBT people, their aspirations and future happiness.
"Regardless of the pathway to achieving marriage equality, we join with the Archbishop and call for a positive and respectful national discussion on the issue.
"We welcome the Archbishop's comments that people can support marriage equality in good conscience.
"Extending civil marriage to all Australians is good for everyone. It takes from no one and makes our society a better, fairer and more inclusive place." Voon said.
OIP Staff