Ariana Grande's surprising duet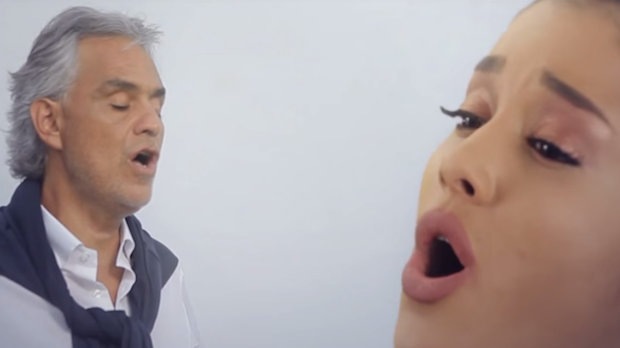 Ariana Grande has teamed up with classical singer Andrea Bocelli to sing the tune 'E Piú Ti Penso'.
The ballad, which is adapted from Ennio Morricone's song that appears in both 'Once Upon a Time in America' and 'Malèna', has scored the number one spot in 29 iTunes classical charts around the world. It's the first time Ariana Grande has claimed a spot in the classical charts.
The video for the song was filmed in both Rome and Tokyo. Andrea, the legendary tenor, walks around the historic grandeur of Rome's Saint Angelo Castle whilst Ariana sings on a rooftop, overlooking the ancient Sensō-ji temple in Tokyo.
Andrea Bocelli praised his singing partners abilities.
"Ariana is a star but above all she is a great singer. For me it's very nice to listen to my voice next to her voice" Bocelli said.
The track is off Bocelli's new album 'Cinema' which focuses on songs featured in films. Also on the CD are songs featured in 'Doctor Zhivago', 'Love Story', 'Life is Beautiful', 'The Godfather', 'The Postman' and 'breakfast at Tiffany's' alongside songs from film musicals 'Evita' and 'West Side Story'. The album is released globally on October 23rd.
Check out the video below.