Aussie rapper Nick de la Hoyde releases new tune 'Ghosts'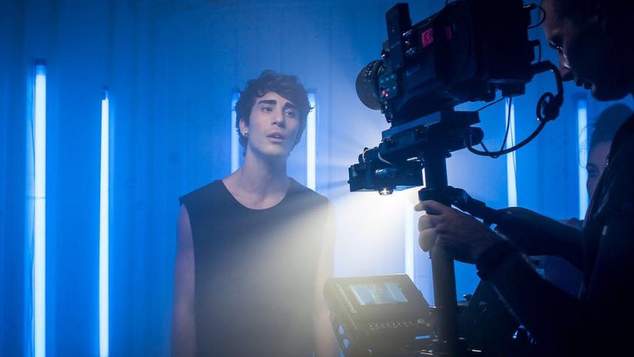 Aussie rapper Nick de la Hoyde has been building his career up over the last few years and now has an interesting mix of tunes under his belt.
His latest release is Ghosts and song that looks into the effects of social media on our lives, mental health is a theme that de la Hoyde often visits in his work.
At 15, Nick made the decision to quit high school at the end of year ten to pursue his goal of being a world class soccer player.
"I was accepted into a leading soccer training academy in Spain which meant leaving behind my studies, friends and family" Nick said in a media release for his new song.
Living in Spain for four years and not knowing anyone became real isolating and wasn't good for his mental health, so he turned to music to help him deal with his emotions which is when his career kicked off.
Travelling daily to and from soccer training, Nick used this time to express how he was feeling, through writing lyrics, which ultimately led him to produce his words of self-comfort into music tracks.
"I come from a family that is naturally talented in music, but I never thought about being an artist – soccer was always my passion. I sent back home my lyrics and then had my brother, Zuzu, record them and produce the tracks for me. After a while, I realised wow, I could have something here."
Mustering up some confidence, Nick started posting his tracks on his Facebook page and then started to see some traction.
Nick got his first big break in the music industry when he was 19, turning 20, just five years ago. Nick flew to the USA to record his debut single with Lemoyne "LA" Alexander who has produced music for some of R&B's biggest artists including R Kelly and the late Aaliyah.
"Through word of mouth, I was invited to Chicago, to record my first single, The Longest Way",
From here, Nick knew that this was a path that he wanted to follow and decided to leave soccer behind in Spain and head back to Sydney to keep recording and chase his music career.
Nick latest track, "Ghost", is inspired by the downfalls of social media.
"Social media stripped me of all of my social skills, my confidence, my happiness and my friends. I spent so much time trying to please people that I had never met, and felt like I had to post certain photos because that's what they wanted to see, it became my drug and i was addicted to it. I was left feeling like a ghost each day, but online I had a presence, which is a scary thought."
"Ironically when you think you know what you want in life, often it's not what life wants for you" Nick said.
Take a listen to his latest offering. 
Source: Media Release
---