Australia's Kate Miller-Heidke takes to the stage at Eurovision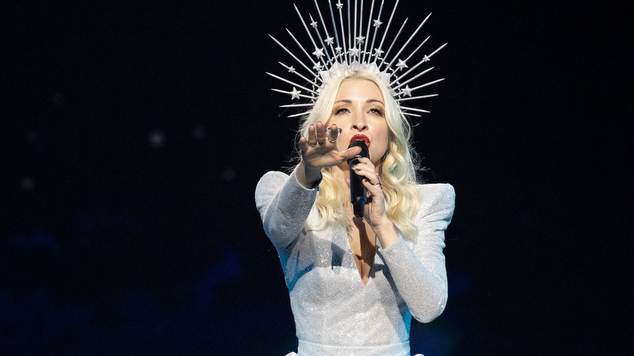 This article contains spoilers about the results of the first semi-final at Eurovision.
Australia's Kate Miller-Heidke has delivered an impressive performance at the first Eurovision Semi-Final. The singer took to the stage in Tel Aviv to perform her song Zero Gravity appearing on top of a pole that saw her fly through the air.
When Miller-Heidke performed the number at the lead in competition Australia Decides she was clad in a giant tiered cake dress, but now she is joining her backing dancers from performance company Strange Fruit, swaying from side to side in an impressive feat of balance. The singer has spent months perfecting the technique.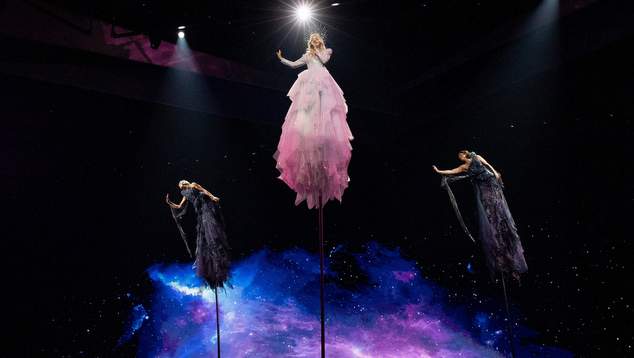 Sixteen countries took part in the grand final but only ten could make it through to the next stage of the competition.
Performers from Cyprus, Estonia, Greece, Belarus, Serbia, the Czech Republic, Iceland, San Marino and Slovenia also attracted enough votes to make the cut for the grand final.
For Finland, Montenegro, Poland, Hungary, Belgium, Georgia and Portugal it was the end of the road.
Among those heading home was was of the competition's most high-profile performers Dardue. The Finnish DJ's collaboration with singer/actor Sebastian Rejman failed to make it through.  Portugal, who won the competition two years ago and hosted the event in 2018 are also out. Many Eurovision afficiados were surprised that San Marino's entry Na Na Na gained enough votes to make it into the final.
The broadcast also included an appearance from Dana International who won the competition for Israel in 1998. It was the first time a transgender performer had won the competition. Dana delivered a cover of Bruno Mars' song Just the Way You Are. 
Australia is now one of the hot contenders to win the competition alongside entries from The Netherlands and Sweden.
OIP Staff
---