Bangladesh's first LGBTI magazine editor brutally murdered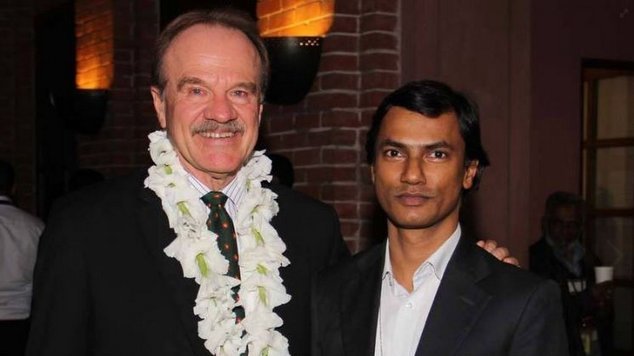 Two LGBTI activists have been brutally murdered in Bangladesh, including the senior editor of the nation's first queer magazine.
'Roopbaan' magazine editor Xulhaz Mannan (pictured right) was killed by machete wielding attackers in the Bangladeshi capital, Dhaka. Another person believed to be an LGBTI activist was also murdered in the attacks, but their identity has yet to be confirmed.
Maruf Hossain Sorder, spokesperson for Dhaka Metropolitan Police, told AFP News that at least six men entered the seven-storey apartment building under the pretense of delivering a parcel.

"Unidentified attackers entered an apartment at Kalabagan and hacked two people to death by machetes. Another person was injured," Sorder said.
US ambassador Marcia Bernicat said she is devastated by the brutal murder of these two men.
"We abhor this senseless act of violence and urge the government of Bangladesh in the strongest terms to apprehend the criminals behind these murders," Ambassador Bernicat said.
Bernicat also notes that Mannan had been working with support agency USAID in Bangladesh.
USAID chief Gayle Smith also called on Bangladeshi police for justice, dubbing Mannan "the kind of person willing to fight for what he believed in."
'Roopbaan' was launched under Mannan's leadership two years ago as a means for LGBTIQ people to have their voices heard in Bangladesh. Homosexuality is still a criminal offence in the small yet populous Republic.
Mannan and his allies launched an annual Rainbow Rally, which began on Bengali New Year, April 14 2014. Police prohibited the event this year due to security fears and arrested four activists who defied the ban.
Mannan had warned the police that he was being threatened by extreme followers of Islam, alerting them to an online group that threatened the Rainbow Rally organisers.
These murders come just days after a well-known liberal professor was killed in a similar manner in the city of Rajshahi. Media have reported a number of recent killings of vocal liberals and secular authors.
OIP Staff
---
Sources