Bella Green gets real about sex work at Fringe World Festival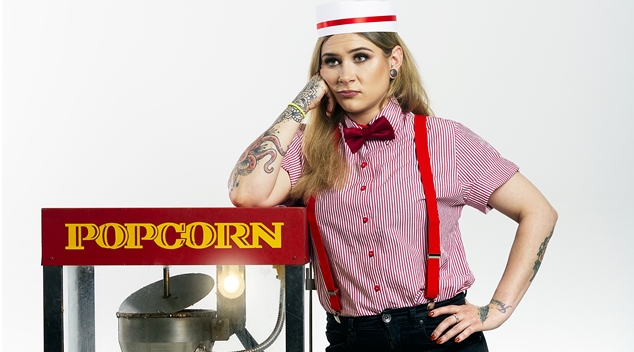 Comedian, writer and sex worker Bella Green is bringing her debut show to her hometown for Fringe World Festival.
Bella Green Is Charging For It takes a journey through Green's life as a sex worker in the form of stand-up, sketch comedy and storytelling. Green answers questions like 'What really goes on at a peep show?' and 'how can you get away with wearing Uggs while being a cold, hard dominatrix?'
Green tells Perth audiences to check their inhibitions at the door as we catch up for a quick chat about her life in the realms of sex and comedy.

When did you first get into performing comedy?
I secretly wanted to be at stand-up comic but I was way too shy, so at the age of 32 I joined the Improv Conspiracy in Melbourne to get some confidence. From there I moved into stand-up and sketch comedy.
Your show mentions the 'minutae of sex work' – there must be a lot that people don't know about what happens behind the scenes?
The funniest and most interesting parts of sex work rarely involve the sex itself – it's the silly things that happen out the back in the girls room, the crazy things guys text to your work phone, or the weird stuff a nurse says to you while doing an STI screen.
The show opens the audience up to ask any questions of you – what are the most absurd things you've been asked?
People always want to know how much I charge (I've been paid anywhere between $60 and $10,000), what my parents think (not too phased but happy I'm doing comedy now) and what the weirdest request I've ever gotten from a client is (it's pretty wild but you'll need to see the show to find out).
What does bringing visibility to the lives of sex workers mean to you?
Bringing visibility to sex work is the most important thing to me. People always tell me they've never met a sex worker before me and I'm like oh no, you definitely have! It's just so stigmatised that it's very rare to be in a position where you can be open about your work.
It affects your relationships with friends and family. It can prevent your future employment prospects. As someone with the privilege to be "out", I feel a responsibility to show people that sex workers are just regular people.
Tell us about your other work with Improv Conspiracy!
I'm a writer and actor for one of Improv Conspiracy's house sketch teams, Goin' Steady. We put on a banger of a show every month. I love writing silly, absurd sketches and getting to work with some incredibly talented people.
What should Perth audiences expect from your show?
A fun and joyful show. We touch on some heavy subjects but it's always uplifting and the jokes never punch down. There's also a lot of references to Perth – this is my hometown and all of my early adult industry jobs were here.
Bella Green Is Charging For It runs at the Deluxe until Sunday 17th February. Tickets and more information available from fringeworld.com.au