Bibliophile | Annette Trevitt shares her grief in 'I Had a Father in Karratha'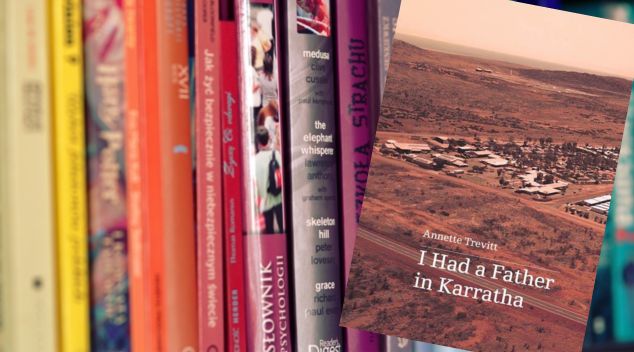 I Had a Father in Karratha
Annette Trevitt 
Upswell
Author Annette Trevitt shares the journey she went on when her father suddenly passed away in this emotional but easy-reading memoir.
Her parents had split up when she was a young girl and her father had built a new life thousands of kilometres away, travelling to the far Northwest of Australia. Here he became a respected member of the local community and invested in property in the remote mining port town.
I have to admit I was immediately drawn to this title because I grew up a few towns to Karratha's north. While to many the image of Karratha and the descriptions on the books cover suggest a remote town covered in red dirt and inhabitants living under its sweltering heat – to me Karratha was always glamorous.
Compared to my childhood home in South Hedland, Karratha had better shops, different shops, different people, and an undulating landscape of hills – unlike my town which was completely flat. Sure, both were bloody hot and covered in iron-ore dust and red dirt, but for me in the 1980s a 230km trip to Karratha was as exciting as a journey to the moon.
I was intrigued to find out how this Melbourne based writer encountered the town, and as someone who has lost a parent, I wondered about what her journey through death and grief had entailed.
Her father passed away suddenly; he was a retired roofer who had lived in the town for over forty years. Trevitt and her brothers fly into the outback town to bury their father and organise his affairs.
They discover a mess of a house, some bad hoarding habits and a complex web of financial affairs to sort through. He owned houses, units, businesses, did he still own some gold – where would he have put it? There's a lot to sort through, physically, financially and emotionally.
Presented as a combination of reminisces, diary-like entries and text messages, this intimate collection of tales and accounts paints a vivid picture of families, Australian characters and the realities of one our most remote towns.
Halfway through this book as the author deals with an endless stream of paperwork, bank staff, insurance companies, tenants and other challenges, I wondered where it was going. But it captures the realities of grief, it can seem like it's never ending, as is the paperwork that can suddenly take over your life dealing with someone's affairs.
It is worth wading through the bureaucracy, shared frustration and heartbreak of this experience though, because it delivers a satisfying and insightful ending.
Graeme Watson
---

You can support our work by subscribing to our Patreon
or contributing to our GoFundMe campaign.