Bibliophile: Carsick by John Waters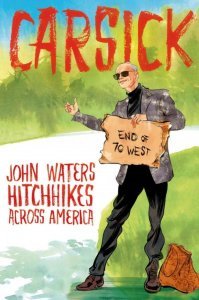 Carsick: John Waters Hitchhikes Across America
by John Waters
Murdock Books
Cult film director John Waters was between pictures as they say in Hollywood and, having nothing better to do, he decided to hitchhike from his home in Baltimore to his co-op apartment in San Francisco.
Calling the undertaking his 'hobo-homo journey' and being an ultimate control freak, he planned for weeks ahead. This included writing about the best possible scenarios as well as the most horrific rides he could think of. At the age of 70, he was ready for an adventure and wanted to maintain his belief in the basic goodness of people.
Part of his preparation was to write fantasy versions of the best and worst rides, and of course the 'Pope of Trash' manages to let his filthy mind conjure up some titillating possibilities. He also imagines the horror of being attacked by a rabid raccoon, imprisoned, tortured, being stuck with the dialogue from one of his films and worst of all sharing a car with a smoker.
Unfortunately reality is never as exciting as fiction and his record of the actual journey is somewhat stultified as he fails to get rides and gets stuck in some horrifically bland parts of Middle America. Armed with his pencil thin moustache, a collection of hastily made cardboard signs, he did actually meet some interesting people … and he was also being tracked by his two assistants running Hitchhiker Central from his office. His journey reveals good, bad and ugly of Middle America as well as being an extremely entertaining read.
Lezly Herbert