Bibliophile | Gabbie Stroud ponders 'The Things That Matter Most'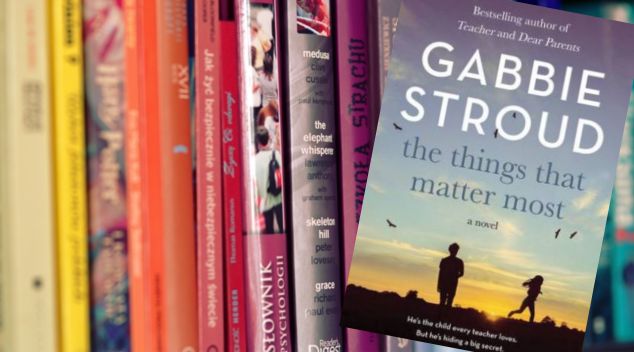 The Things That Matter Most
by Gabbie Stroud
Allen & Unwin
Boltford, in Central New South Wales, was like a movie set for a rural drama. It was divided by a bridge – "Housos and Blacks and factory workers on one side. And now refugees too. Everyone else on the other side."
Lionel Merrick had five different addresses in the last six years on the wrong side of the bridge. The Year 6 student was taking his younger sister Lacey to start in Kindy while his mother worked three jobs to afford the rent and school fees.

Newly minted Kindy teacher Trent Cole was just out of university and hoping that being queer wouldn't be a disadvantage in St Margaret's Catholic Primary. Of course the faux-leather satchel and the blue suede shoes were dead giveaways on the first day of school.
After forty-something years at the school, Bev from the front office could tell Trent was queer straight away, but she was snowed under with work and had her own problems to worry about.
Teacher Sally-Ann, who was also the doctor's wife, was looking forward to the year but Assistant Principal and Year 6 teacher Derek was resentful that, after teaching for 40 years, he had to produce evidence that he was doing his job.
Recovering teacher and author Gabbie Stroud brings the reader into the classrooms of a beginning teacher; an experienced and enthusiastic teacher who wants a break and a new direction in life and a jaded long-term teacher who is forced to stay in the classroom to keep paying the mortgage and can't keep up with the paperwork.
It is Lionel Merrick who touches all of their lives as the stresses mount. The school has to undergo its five-year audit with Professional Teaching Standards having the same acronym as Post Traumatic Stress! An unfavourable article hits the newspaper and the school is being sued.
Stroud reflects how society believes that schools will fix everything but, with schools running more like businesses these days, there is less time for teachers to care for their charges. While workloads increase and personal lives struggle, nobody notices how vulnerable Lionel Merrick is becoming.
Stroud captures the humour as well as the heartache of the school eco-system and the connection to the greater community, especially in small rural towns. In between the laughter and the tears, she makes you consider what things really matter.
Lezly Herbert
---

You can support our work by subscribing to our Patreon
or contributing to our GoFundMe campaign.