Bibliophile | Maddie Godfrey's How To Be Held will hold you close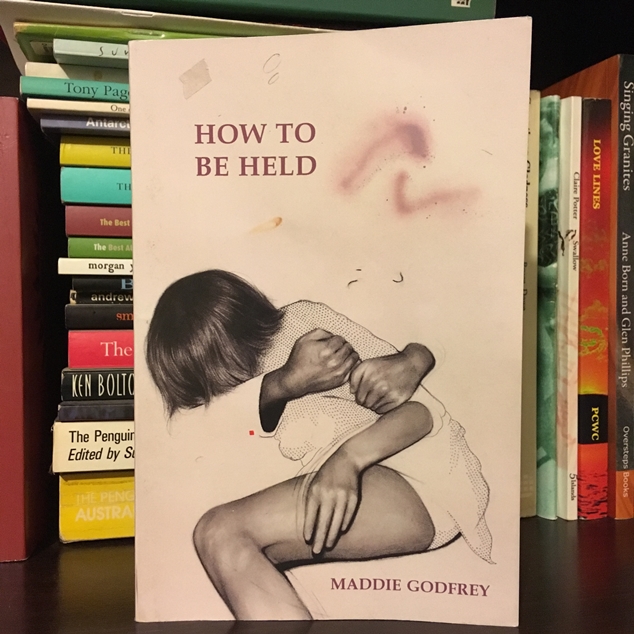 How To Be Held
Maddie Godfrey
Burning Eye Books
Poetry, at its most potent, lingers. How To Be Held by Perth poet Maddie Godfrey certainly lingers long after the initial reading. The words within brim: with potency; with bravery; with belonging. This is the kind of poetry we need right now: compassionate; inventive; inclusive; full of promise; full of hope.
At its core, How To Be Held – and to extend on a quote by Lora Mathis – utilises radical softness as a weapon of love. There is so much space in these poems that they literally "curve around a lover / like a comma instead", holding the reader in a state of extended yearning and awe. Some of the imagery astounds, at other times it allows Godfrey's wry wit to slip and flip a smile across your face.
And smile you should: Godfrey is a 22-year-old non-binary Perth poet doing big things on the local and international literary scenes. For this reason alone you should support local writing, but if you need more convincing, Godfrey has appeared at Glastonbury, TEDx Woman and The Sydney Opera House plus has performed their poetry in America. Godfrey's star is on the rise, and it's certainly one to navigate by, pin hope on.

Accolades aside, this collection is a vital testament to modern life for both LGBTIQA+ identifying individuals and humans alike. Here, kneecaps become "rock-hard boob shapes", "mental illness becomes an app / (you) can delete off youR phone", that when a star falls "people wish on them" and mountains never "ask permission to grow"… and nor should we. If anything, Godfrey reminds us that, regardless of the heartache, the trauma, the pain, the fires set by ex-lovers, there is still an opportunity to be strong, to grow, to be resilient. And perhaps this is why this collection resonates so deeply with this moment in time: we are all seeking resilience, strength, fortitude. How To Be Held contains plenty.
It's remarkable to think that such a young writer could be so "in tune" with the world, but it happens. And it happens here, now. If you, like so many of us, struggle with yourself, your identity, your world, then this book offers both sanctuary and certainty that you are important. It grants you permission to have volume, to take up space. How To Be Held is like that compassionate conversation you're aching to have, and Godfrey offers it unabashedly. Feminism, hoping mechanisms and queerness abound. Even Halsey makes a cameo.
Godfrey's debut collection of poetry may be on the small side, but this is a boon, making it easier to read in one sitting. And that one sitting will reward: the words will linger, transmute into a potent poetry within your skin. How To Be Held will hold you, and ultimately we all just want to be held. Poetry can achieve this. Godfrey's most certainly does.
To order your copy, or for more information, head to howtobeheld.com
Scott-Patrick Mitchell