Bibliophile | Stephanie Parkyn explores the story of Marie-Louise Girardin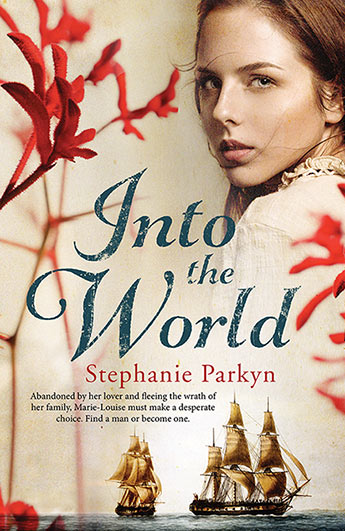 Into the World
by Stephanie Parkyn
Allen & Unwin
Marie-Louise Victoire Girardin was born in 1754 in Versailles, France. By the time the French Revolution began on 14 July 1789, she had married, had a son who died, been widowed and given birth to an illegitimate child. The dream of equality for all didn't actually include women in its equation and when her father wouldn't protect her, she fled to the busy port of Brest without her baby.
"Girardin stood beside the fire in clothes that were not her own, holding a baby she could not keep. She wore a royal-blue coat with epaulettes that sloped off her shoulders and white breeches that bagged above her boots. Beneath this loose and ill-fitting costume her breasts were bound with linen bandages, stretched taut and knotted so tight each breath was cut short. She could feel her milk leak into the bandages, feel the brutal waste of it, as she pressed her son to her chest. 'I have no choice', she whispered to him."
Disguising herself as a man, she joined a scientific expedition to Tasmania as a ship's steward, calling herself Louis Girardin. The expedition was to search (unsuccessfully) for Frenchman La Pérouse and his two ships that had disappeared after leaving Botany Bay in 1788. The voyage also mapped the southern part of New Holland and collected natural history specimens.
While the revolution continued back in France, the journey took from 1791 to 1794. Fortunately she had a cabin to herself. In April 1792, the expedition reached Van Dieman's Land. Girardin was probably the first European female to visit the island although she still maintained her male persona, and in 2005, she was honoured as the first female European visitor to set foot on the island.
Stephanie Parkyn has taken this true story and given it life with fictional additions. All the characters are based on real people and she wanted to give Girardin a voice to tell her story from her point of view. There is no mistaking that these were terrible times and journeying into largely unknown parts of the world would have been extremely perilous. Battling sea sickness, a thieving cook, plagues of moths and rats and a Capuchin monkey belonging to one of the crew, Girardin had to keep track of the food supplies for the long journey. But this was nothing compared with keeping a hundred men from discovering her sex.
Lezly Herbert
 After some new books? Head to the Book Depository