Bibliophile | 'The Artist's Secret': Danger, deceit, betrayal & Louboutins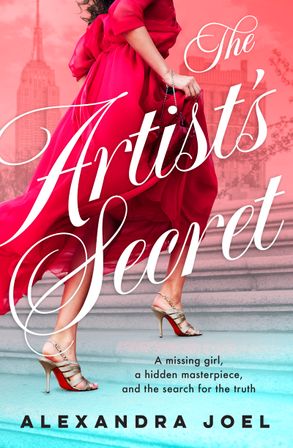 The Artist's Secret
by Alexandra Joel
HarperCollins
Having penned many 'sweeping sagas', Alexandra Joel jets readers to the world of museums, art galleries, high level behind the scenes negotiations and auctions where celebrated artworks are bought for stratospheric prices. At the centre of this whirlwind is talented art historian Wren Summers who was the assistant of prints and drawings at the Sydney Art Museum in November 1988.
It was in November of 1980 that the book's heroine, who was in boarding school at the time thanks to a scholarship, visited the Sydney Art Museum (which the author bases on the Art Gallery of NSW). Here she visualised the dream job that would take her away from her impoverished childhood.
Going further back, the narrative fills the reader in on Wren's parents who met at the height of the anti-war protests in Berkeley, California in 1965. Joel uses actual events to ground the story of where the young couple met – a free speech sit-in where a bare foot Joan Baez sang "We Shall Overcome".
What Wren is desperate to overcome is that she grew up on a south coast commune, but escaping your past is never a difficult thing to accomplish, particularly when you don't know everything about it.
It comes as no surprise that Joel has previously written two books about fashion in Australia and been the editor of the Australian edition of Harper's Bazaar. As Wren rises through the ranks and becomes more recognised for the abilities, her clothes progress from op shop gems to the high end fashion she is now able to afford.
Being the eighties, the reader is reminded that it is unlikely that Wren will be able to fly too high because of the blatant discrimination and sexual harassment of the time. And some of the discrimination is hidden in plain view, such as females not being allowed to be auctioneers before Sotheby's became a trail blazer in 1990.
Wren finds herself in a string of totally improbable but highly possible events as she struggles with her present and tries to find out about her past. I love how an incident with Princess Diana is woven into the story and continues to inspire several interesting events, including how the sale of her glamorous 1980s gowns to raise money to fight AIDS.
It is a lusciously escapist journey as Wren confronts danger, deceit and betrayal while navigating friendships and even the possibility of romance in her Louis Louboutins.
Lezly Herbert
---

You can support our work by subscribing to our Patreon
or contributing to our GoFundMe campaign.