Bibliophile | The Dalai Lama's Cat & the Four Paws of Spiritual Success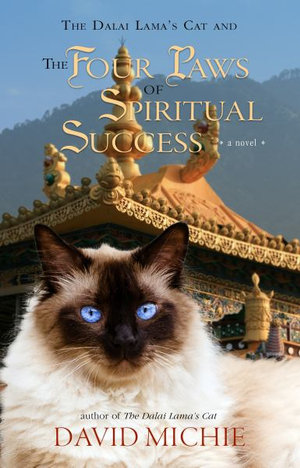 The Four Paws of Spiritual Success
by David Michie
Hay House
For those of you who have met the Dalai Lama's cat before in a previous book by Subiaco writer David Michie (The Dalai Lama's Cat, The Art of Purring, The Power of Meow), she is back … just as vain and just as insightful as ever. The now 7 year old cat shares some memories from previous books as she wanders around the Namgyal Monastery and other places in Dharamshala, where the 14th Dalai Lama has lived in exile for the last 60 years.
Cats make themselves at home in a variety of places and whenever there is something of particular importance, HHC (His Holiness's Cat) seems to be there to witness it. There are as many versions of HHC as there are minds to perceive her and as the locals work to find solutions to their problems, so does 'the most beautiful cat'.
Michie reminds us that our journey begins when we accept responsibility for the causes of our feelings and stop searching for solutions out there in the world. It is a revelation to both the people who who have problems to solve and the much-loved feline to find they have incorporated one of the four pillars of Tibetan Buddhist wisdom into their lives with ease, and solved their problems.
It was so wonderful to spend time with the Little Snow Leopard in his hillside village on the edge of the Himalayas and be touched by the loving kindness and wisdom incorporated in this book. It is an experience I shall be repeating as it gently opens doors to new ways of seeing the world.
"Making your way down a familiar street, if you came to a door which, for your entire existence, had been closed, but today was ajar, would you pause to take a good, long peek inside? Or at the very least steal a sideways glance? And if that door led to a mysterious corridor which, in turn, opened onto a secret courtyard, or perhaps a lamplit room filled with intriguing artifacts, might you be tempted to venture inside?"
Lezly Herbert
---