Bisexual+ Community Perth on why visibility is still so important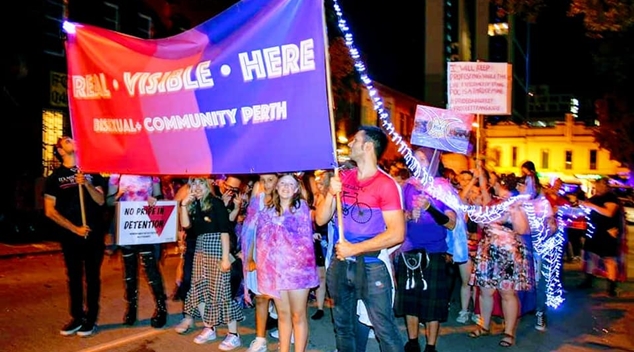 In 2017, Bisexual+ Community Perth marched for the first time in the Pride Parade with approximately 40 people – bi, pan and multi-gender attracted individuals, all letting their bi flag fly.
This year, in the biggest-ever Pride Parade to take Perth's streets by storm, close to 100 people marched with the bi banner and the message: we're visible.
Bi visibility is important. Bisexual+ people make up the majority of the LGBTQIA+ community, but we're often still treated like an after-thought and never quite sure if or where we are welcome.
One RTRFM listener called to complain during a special episode of All Things Queer for Bi Visibility Week this year, saying the show should not be about bisexual issues. The message was that bi people apparently aren't really queer.
We're forever asking "Does this safe space or that community group welcome bisexual+ members?"
To have a hundred bi+ individuals marching together, showing the city, showing the community, showing the world that we exist was a watershed moment. We're putting faces and bodies and signs to the name, and showing people like us that we see them too, and they don't need to hide or be ashamed.
Nathan Lee marched in Pride for the first time after coming out earlier this year "I had always known that there were Pride events, like Mardi Gras in Sydney, but the one closest to home was never talked about or seen growing up.
"Leading up to the event I had wondered if the route was too long because surely there we not enough people who would watch or if the parade itself would be just us marching with a few utes carrying other groups. With that said, I'm over the moon that I was wrong.
"I was so struck by the size of the event, and I think one of the reasons for that was that I had heard so little about it in the past – even though I had lived in this city for most of my life," he said.
"The feeling of being in the street with a hundred or more Bi+ people, my friends and the people I have come to look up to, was easily one of my best experiences.
"In many ways it made me feel like we were making a point to be seen because, as the saying goes, quantity has a quality all its own. I felt like I was part of a change in finally being counted visibly, something Bi+ people have struggled with for years, and hopefully for people like my younger self who never even knew this was happening."
Taree Caldwell-Thorpe, who also marched for the first time, said: "I have been to Pride a couple of times before, but I've never marched. I didn't even plan to this year, but I'm so glad I did. I felt so welcome, like I had this family that I didn't know I had.
"Bi visibility is important because our sexuality gets dismissed a lot. All relationships, whether it's romantic or your family, can be difficult when they dismiss your identity. It hurts when we're not seen as important, or even valid."
Misty Farquhar, co-founder and organiser of Bisexual+ Community Perth, is excited about how quickly the community has grown. "I started this group in 2015 because I felt like there wasn't really a place for me for a long time. It fills me with joy to know that others like me may be watching the parade and know that they never need to feel like that."
This year, the group's Pride contingent was one of the largest groups of bi+ people in the world.
So if you ask us how we're doing we're feeling peppy, sprightly, spry. We're getting bi.
Visibility is important. Join the Bisexual+ Community Perth at facebook.com/groups/bicommperth
Jay Chesters
Image:- Lisa Max