Black Swan get ready to stage Taylor Mac's 'Hir'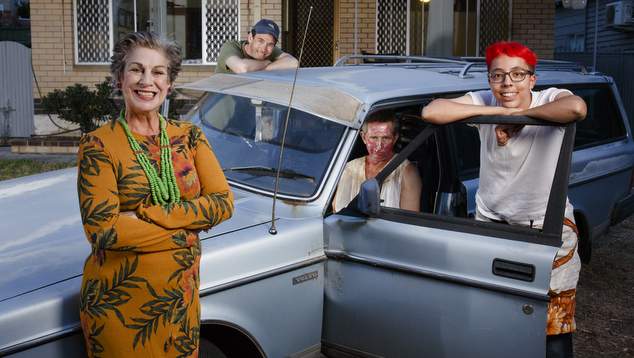 Taylor Mac, who uses judy (lowercase j) as a gender pronoun, left a memorable impression when judy appeared at the Perth Festival back in 2011.
Now Perth audiences have another chance to enter the world of the drag legends creative realm as Black Swan State Theatre Company stage judys play Hir. The plays name is Hir is a gender neutral pronoun pronounced 'here'
The darkly comic play has been described as "Roseanne on acid". Isaac returns home after serving a three-year stint in Afghanistan, only to discover his family household in revolt. His father, Arnold, has suffered a stroke rendering him nearly speechless. His mother, Paige, has become a gender studies aficionado. And his younger sister, Max, is now his younger brother. Isaac suddenly finds himself at the centre of a very different kind of war zone.
OUTinPerth spoke to Director Zoe Pepper and actor Jack Palit, who portrays Max in the production, during their rehearsals.
Palit will be making his professional debut in the play and he's excited about the curtain rising on the production.
"I've never done anything like this before, all the other shows I've done have been with people around my own age and level experience, this is like – Wow!" Palit said. In the production he's joined by Will O'Mahoney, Igor Sas and Toni Scanlan, some of the most experienced actors in the local scene.
Palit first worked with Black Swan's artistic director Clare Watson a few years ago and she approached the young actor and asked him to come to Western Australia to take on the role.
"He's a really angry person." Palit says of his character Max, "I'm the polar opposite of that. He's a trans guy who is completely isolated, but he has the internet."
Having the internet as a sanctuary is something that Palit relates to, he said until he went online he didn't know that other trans people existed. "It's almost the only way that trans people can initially find out about other trans people."
For Pepper the play was something that she felt a connection with. "It's pretty close to my brand of craziness" Pepper said of Mac's writing. "Clare Watson gave me the script to read, and it's really funny, very well written, and about this really dark dysfunction family – which appeals to me alot."
Pepper said the play walks a fine line between tragedy and comedy, and so much to offer before the gender discussion it initially provokes.
"A lot of it is about power, which is embedded in gender and discussion of gender, but there are cycles of abuse and it's about how this family perpetuates itself through everyone trying to push against something that they hate, but they are inadvertently perpetuating that behavior anyway.
Staging Taylor Mac's work is challenging,
'It's incredibly verbose." Pepper says of the play. "The language is amazing, but everytime you think you think you've got your head around a scene, you remember there's another bit, everyone just keeps on talking and there are no many twists and turns, figuring out the rhythms to play has been really interesting."
Pepper thinks the plays chaotic set, which is far from a minimalist presentation, is also having an effect on the actors during the rehearsal. "Because there's so much stuff on stuff everyone seems to be speaking faster, the chaos just adds another element, alongside all the dialogue everyone has to remember."
For Zoe Pepper it's a play that she thinks will make everyone reflect on their own family. "These characters, they're all flawed, but they're just trying to make their way and do the best they can in bad circumstances. You understand they plight."
This year Black Swan's program is presented as a series of conversations with plays presented in pair. Pepper said she can certainly see the similarities between this newer play and the classic Australian play The Summer of the Seventeenth Doll  that is playing at the same time.
"They're both about men who come home and find their home and think their house is going to be how they left it, and there place in the world is going to be as they left it, and its vanishing. That decline of masculine power is a common thread."     
Hir is playing at the State Theatre from 10 – 27 May. Tickets are available from www.bsstc.com
Graeme Watson, image: Daniel James Grant
---