Blowing Off Steam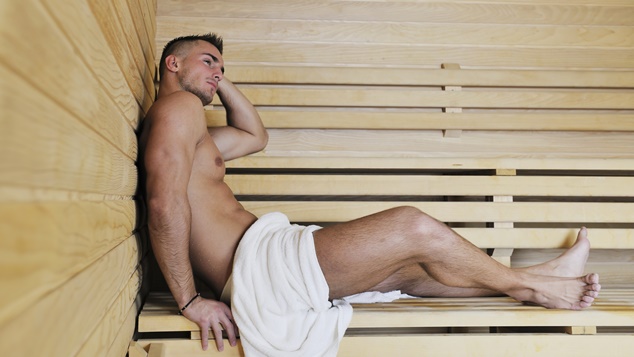 For some reason my editor thought I would be the best person to write about Steam Works, Perth's gay only sauna.
I had originally applied to do a story about the death penalty for gays in Uganda but OUTinPerth refused to pay for my flight to Africa.
I was slightly nervous about visiting Steam Works. I didn't want to run into anyone I knew. When I arrived I was met by owner Michael Chester who started Perth Steam Works in 1996. He treated me to an access all areas VIP tour of the facility. The building was once a gift ware wholesaler, the upstairs part where Steam Works is located was a warehouse.
Chester told me his inspiration for the venue, "I was a sauna goer- I thought there was enough population to warrant a gay sauna. I saw a need because of the population level."
Chester believes Steam Works is a comfortable environment for men to meet while lowering the risk of STI's and other issues that are associated with beats and other cruising areas. "I'm providing a venue for men which is safe and secure. I can remember 10 years ago there were violent aggressors with baseball bats targeting gay men in the park near Burswood. Beats are definitely not safe. We provide condoms and lube free of charge and we have the M Clinic on Mondays," said Chester.
Saunas and baths have been around for thousands of years. Romans built many public baths for leisure and socialising. They were also segregated into male and female sections, I'm sure other activities took place there also. I applied to OUTinPerth to pay for a trip to Italy for further research but unfortunately again my application was rejected.
"The benefit of having a venue like ours is it provides another avenue for which men can meet. Men can have a drink, socialise, meet up with their mates, it's a very friendly environment," Chester explained. "We are definitely not an ageist venue, we get patrons aged anywhere from 18 to about 70. Mostly older guys visit during the day while younger chaps would visit in the evening."
"The steam room and the spa are definitely the most popular areas for guys wanting to relax. The porn room has also been a hit. I had two guests visit recently who hadn't seen the new theatre room – they said the renovations look fantastic! It seems everyone has their favourite area."
Personally I loved the idea of having a porn room. If I watch porn by myself, I usually end up feeling even more depressed afterwards. The guys in the video are having all the fun getting off in exciting locations like pools, spas, locker-rooms, while I'm all alone in my boring bedroom.
It was surprising to discover that Steam Works was the first gay sauna in Australia to secure a liquor licence.
"In 1998 I travelled through Europe and England and discovered that all the saunas were licensed to sell alcohol. We had European customers asking for beer, wine or spirits but all we could serve was tea or coffee. I thought if Europe was mature enough to have alcohol on their venues then why shouldn't we?" Chester said.
Cheers to that! I just wish OUTinPerth hadn't refused payment on my bar tab. I assure you my round of drinks was a legitimate business expense.
Liam Wilkinson, stock image
---