Bonfire of the Vanities: Voix de la Ville reflect on a decade of queer art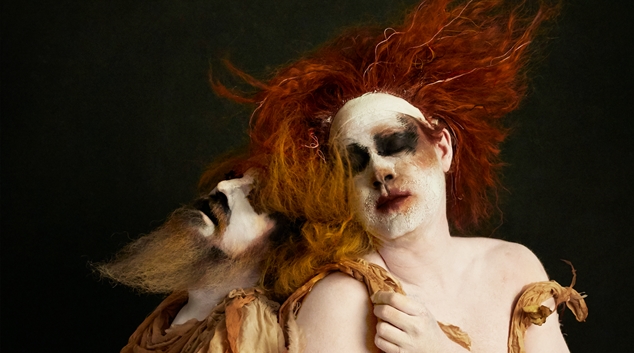 Local avant-garde punk duo Voix de la Ville are celebrating a decade of queer art with a decadent soiree at The Rechabite this PrideFEST season.
Award-winning pair Strykermeyer and Ash Baroque have been stimulating the senses with their singular brand of ritualistic, riotous LGBTIQ+ celebration, and they've gathered their most fabulous friends for the most decadent last hurrah with Bonfire of the Vanities.
The inimitable Strykermeyer has been recognised with a BAFTA for his hair and make-up work on the Australian classic Priscilla: Queen of the Desert, was one of the subjects of the 1995 documentary Ladies Please, and more recently inducted into the Perth's Proud Awards Hall of Fame.

Self-described 'riot poof' Ash Baroque has been behind some of the most exciting queer performances in recent years, including Bar Bitch Chew Art, The Prize Vulgarian and Richard, producing works for Sydney Gay & Lesbian Mardi Gras, Perth Festival and the Fringe circuit.
Leigh Andrew Hill caught up with Stryker and Ash on RTRFM's All Things Queer program for a chat about Perth's alternative queer scene, what to expect from their farewell feast this weekend and how Voix de la Ville came to be.
"It came to be by meeting Stryker really, when we connected a long time ago when we first met, and then a decade later we just both we just both had chemistry and regards to where we sit creatively and musically." Ash told ATQ.
"There was an active resistance I think to  a lot of alternative theatre that was happening out there… there was such a consumerist nature going on and shows were kind of manufactured. I think for the for the audience not so much the artist."
"There was a massive void. Something that needed to be filled, basically." Stryker adds.
After ten years the pair still share a united creative vision, inspired by queer history and driven by a rebellious ethos that rails against the status quo. Looking back to 2009, Stryker said he wasn't expecting to find a like-minded collaborator.
"Well, I've been doing a lot longer than Ash and for the first time in decades somebody actually understood me, and that was Ash, and I was quite surprised because they were quite young to be able to get what I was putting across."
"I don't want to over-intellectualise anything but it's quite specific what I'm into… and for Ash to get that was stunning."
"I think one of the key points was on the fact that we both were definitely spawned out of a punk ethos in regards to performance," Ash added.
"Going back to queer culture, it was very tied in with punk culture as well… through our bond, there was this longing for a voice and we found that in each other as collaborators."
Voix de la Ville has made its mark far and wide, but the pair are very much grounded here in Perth. Making art from the cradle of the world's most isolated capital city has become a core driver for both creators.
"Punk is definitely been coming from Perth since at least Rebecca Patterson had Neurotics," Stryker recalls the punk salon that was held in Forrest Chase in the 1970s.
"There's a lot of punk ethos still in Perth, even all the old hippies have adopted that now because it's actually just common sense."
"We just wanted to be since we sparked off each other we just thought we could just get loud about it again and keep it going. It's a thread. We're right into threads, and punk rock and punk mentality is one of those threads."
Though they can trace that thread back to the 1970s and beyond, Ash noted a resurgence of punk queer energy in the 1990s.
"I think around the stigma of a word like 'punk'… punk was actually anti-capitalist. Punk was actually about the people and connectivity and expression and… the state and the condition of the world and I think that's more relevant than ever at the moment."
"We've always been very resourceful and reuse a lot of things, and recycle, we're very kind of aware of that thing. We are as people trash into treasure!"
"It's a valid thing these days. There's so much waste," Stryker adds.
"We have a very green sensibility about everything we do. We don't really spend a zillion dollars on costumes or anything like that, it's all basically what's on the floor."
"I can't even remember the last time I bought a fabric. It's old carpets and things from the side of the road. I think that's just a way of looking at the work and how much beauty is discarded daily.
"…and it keeps us connected to the Earth as well, We're very bound to the Earth people."
Ash and Stryker called their ten years spend on this Earth together, naming their first major performance as Voix de la Ville as a big highlight for their collaboration.
"The very first night was a huge highlight for us, watching such an interesting mix of people turn up. We hoped that they would, but when they did it was like 'wow, we're really struck a chord' because all these different groups of people and they've now hung together for 10 years… we've got a great following and we're really rapt about who follows us," Stryker said.
"That first event was done at the Castle, which used to be on the corner of Newcastle and Stirling St in this old punk rock venue… now it's a big gay pink building!" Ash laughed.
"But it was the dirtiest, dingiest bar we could find in this town which spoke to me volumes."
"I've spoken recently about like the kind of intergenerational collaboration I have with Stryker and how much through that 80s and 90s AIDS crisis, how many mentors were lost over the years. I think when we talk of the thread that we're talking about earlier, there's so much tapestry and inter-weaving going on in our creative bond, so to speak, where the work that we do together is that it's built a real bridge between those generations and probably, more than anything, that's been such a wonderful force of its own nature regardless of us. Building that rapport and reestablishing and reconnecting those generations because so many people were lost."
"There are so many people that I discovered through you," Ash told Stryker.
"Wonderful artists that I would never even known about that I have so much in common with, but when I grew up there wasn't those gurus that were around, so to find my partner in crime was a bit of a gift."
The two draw strength from the intergenerational nature of their relationship, and say there's much to be excited about among Perth's emerging, younger queer art scene.
"I think they're quite fine on their own! You can't help but take inspiration from people, and if they can take inspiration from us that's a really, really nice compliment," Stryker said.
"But these kids, they've got their shit together. They know what they want, and it's so varied. It's a great thing to see."
Ash recalls their drive to light the spark of a queer scene back in 2009, when there was a dearth of alternative LGBTIQ+ options.
"There wasn't much happening on that front. Now, I was booked to do a show a year ago and I walked inside this venue and there was a lot of performance happening that once upon a time I felt like I had to be a bulldog to show that it was lucrative, and I didn't care for that at all. It actually brought a tear to my eye when I saw Pussy Willow do this show… things have changed, things have shifted."
"It's still possible to get excited over something!" Stryker exclaims.
"But also it's like it's interesting to see what these young kids are doing because… some of our other highlights have been doing these amazing geniuses; their words, their music, their voices. We've had a great deal of pleasure doing that and sharing those incredible artists."
"It's an interesting to see what the younger generation are doing, and who they're using. Some of them are just using their own voice, which I always take my hat off to. It's nice to still be excited."
Ash adds that it's inspiring to see younger LGBTIQ+ creators forging their own spaces outside of traditional venues.
"Having begun where we began, doing this work together, and now seeing so much blossom and flourish… A lot of these people have built a lot of their work outside of the kind of usual spaces that are local to Perth, and they're kind of gone into new, other venues and small independent kind of little bodies and created little scenes of their own and just it's really exciting to put them all in one room together and pollinate because that's exactly the spirit that Voix de la Ville was born on."
This weekend will see a slue of incredible Australian talents pollinating around the Bonfire of the Vanities, from local favourites Ginava, House of Bok, The Monarchy and Homopolitan to Sydney's Betty Grumble & Craig Slist and Melbourne's Claire Hysteria.
Stryker says it's time to gather and say farewell to Voix de la Ville on their own terms.
"So much of life now, for everybody, is not about when you're ready to change,' Stryker said.
"I'm not into change, I don't like this century. I don't like the way things are going at all. To close Voix de la Ville after 10 years, when we're ready, that's so much nicer than just being updated and things being changed without your consent. We gave birth to it, we'd like to put it to bed."
"There's also a sense of handing over the baton, there's such a wonderful youth wave coming through," Ash adds.
"Our time with this format is done, but we're not over!"
Bonfire of the Vanities will be at The Rechabite on Saturday 23rd November. Tickets and more information available from Eventbrite.
Leigh Andrew Hill, image:- Liz Looker

Note: OUTinPerth's Leigh Andrew Hill is a volunteer producer and presenter on All Things Queer.
---