Boyname is set to return to The Blue Room with 'Reconcile'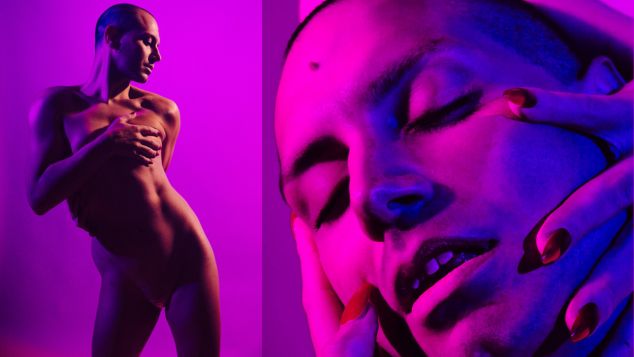 Boyname is beckoning you under their skin in their upcoming show, Reconcile.
Melding alien-movement with sensory design, Reconcile is described as an autobiographical and uncompromising experience in finding queer self-acceptance, opening on 8th June in The Blue Room Theatre's annual program.
Boyname is the performance alias of emerging trans movement artist, Mark Briffa. Reconcile offers a profoundly personal exploration of Briffa's relationship to body and the social conditioning of gender expression.
Audiences will be challenged by Reconcile's visually sensual and grotesque retelling of Briffa's lived experience, underpinned by their commitment to create visibility for Perth's queer community.
This new iteration of Reconcile is Boyname's first solo show in 3 years, following their critically acclaimed premiere in Fringe World's 2020 program. The Blue Room Theatre has programmed its
transformation into its black box theatre with a new, revered interdisciplinary design team.
Inviting the award-winning artists behind WALK, with movement director Bobby Russell and composer Pete McAvan, Briffa is collaborating with all-Perth creatives including designers Volim, creative producer and TNA SMASH Bursary Award winner Samantha Martin, and The Last Great Hunt's George Ashforth to realise a highly textural and provocative show for Perth's theatregoers.
"Collaborating with highly experienced artists has empowered my creative process to feel safe, which is so important when producing a show that's both vulnerable and powerful," said Briffa, "I'm
excited to finally be sharing this iteration of Reconcile with Perth's audiences, I want to challenge expectations and celebrate a real, raw journey into self-acceptance."
Audiences will be invited into the ceremony of the work, where everyone is offered rose petals to place on the stage in a culminating and shared reconciliation for each other. Reconcile will also offer local care support resources for those questioning their own journeys to self-acceptance.
The Blue Room Theatre is set to host a powerful voice in independent performance art with Reconcile's two-week season in June. Tickets are available now via The Blue Room's box office.
Source: Media Release
---
Do you need some support?
If you are struggling with anxiety or depression, support and counselling are available from:
QLife: 1800 184 527 / qlife.org.au (Webchat 3pm – midnight)
QLife are a counselling and referral service for LGBTQIA+ people.
DISCHARGED: [email protected] / discharged.org.au
Discharged is a trans-led support service with peer support groups for trans and gender diverse folks.
Lifeline: 13 11 14 / lifeline.org.au
Beyondblue: 1300 22 4636 / www.beyondblue.org.au