Marriage bill passes the senate without amendments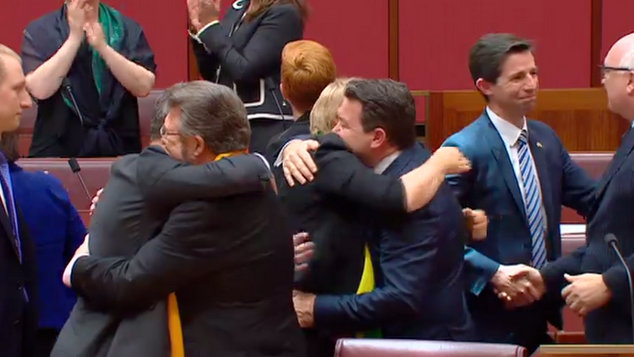 Senator Dean Smith's marriage bill has been passed without any of the proposed amendments being accepted.
The bill passed the senate with 43 senators voting in favour and 12 voting against. Cheers of celebration echoed around the chamber as the result was announced.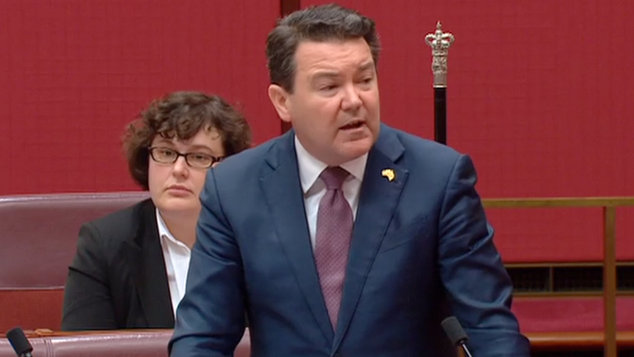 As the bill was read for the final time, Senator Smith said he had begun his journey to supporting marriage equality when he read of the love between Tori Johnson and his partner Thomas Zinn. Johnson was killed in the Lindt Cafe siege in 2014.
Senator Smith gave an emotional thanks to his colleagues who had supported him through the long debate over marriage.
Labor Senator Penny Wong described the passing of the bill as a historical event that was an act of acceptance that removed discrimination.
"This day has been a long time coming," Senator Wong said.
"It was not long ago in this country that gay and lesbian were Australians targeted by the criminal law for who they were. It wasn't that long ago that it was legal to discriminate against us simply for who we are, but equality is a remarkably persistent principle, it is a defining principle. A principle that springs from the simple and power precept of the inherent dignity of every individual, of every human being, and so it has been through human history."
"The aspiration for equality is the hallmark of our progress, so today we stand on the cusp or a remarkable achievement and a historic event, and we pause briefly to reflect just for a moment on just what we are a part [of]. We are part of an act of acceptance, an act of inclusion, an act of respect, an act of celebration." Senator Wong said.
Fighting back tears Senator Wong said today was a day that changed our country for the better.
Attorney General George Brandis said the coalition had taken the view that such profound social change needed to have the say of all Australians, and said he was disappointed that the passing of the law had not come sooner, blaming those in opposition for blocking the original plebiscite plan.
Senator Brandis said the alternative postal survey had been an enormous success for the Turnbull government.
"The defacto plebiscite as we all know was an outstanding success. Eighty per cent of the Australian people participated, and almost sixty two percent of them voted yes." Senator Brandis said.
The Green's leader Senator Richard Di Natale said the passage of the bill sent discriminatory laws to the dustbin of history, and the change was down to the many people who campaigned to change across Australia.
"Today I am so proud of my country" Senator Di Natale said.
"I want to thank those people right across the country who have knocked on doors, who have had conversions, many of them difficult conversations, but they have helped us to come together as a community."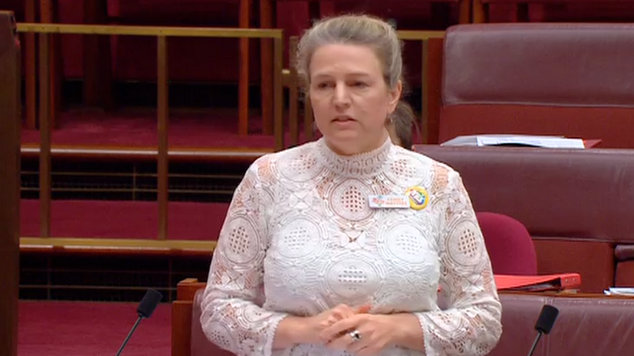 Western Australian senator Louise Pratt said she was proud to have argued on behalf of gay, lesbian, bisexual and transgender people.
"We are here to day passing a law that signifies that the status of our relationships are equal in status to all others."
Senator Pratt said LGBTI people's relationships and families had existing for a long time.
"Our love is true, our children are cherished, our families are precious, and it time that we were equal." Senator Pratt said drawing applause.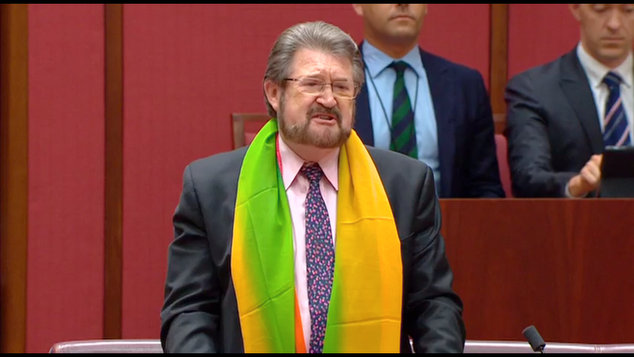 Senator Derryn Hinch said those who were celebrating the change of the laws should also remember to be gracious of those who argued against them. Senator Hinch said Australia was a better place for changing the laws.
Senator Hinch said years ago he would of opposed same sex marriage but he had come to realise that his arguments against it were hollow and shallow. The Victorian said the decision to hold a postal vote was a disgrace, but it had shown that the majority of Australians were decent people and wanted this to happen.
Coalition Senator Matt Canavan declared he would vote against the bill and lamented that none of the proposed amendments had been adopted. Senator Canavan said those who wanted change had taken a "winner takes all approach" to the debate.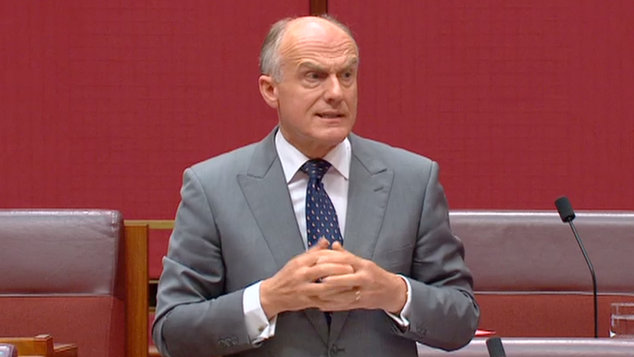 Longstanding campaigner against marriage equality Eric Abetz said that while the Australian people had voted for the marriage laws to be changed, polls had also shown that they wanted religious protections.
Senator Abetz said "in a rush of hubris" the senate was denying now rights to many Australians. Senator Abetz said the senate had now denying many Australians freedoms and rights guaranteed under international laws.
The Tasmanian senator said the question in the postal survey did not relate to people of "varied genders" and the bill had gone further than people would have expected by allowing intersex and transgender people to marry.
Prior to the final reading of the bill Senator Abetz repetitively asked Senator Smith if his bill would allow "thirty three different genders" to now marry.
"The taste is defeat is always bitter and nobody likes it." Senator Abetz said, declaring he would continue to fight for the voices of people who voted against change.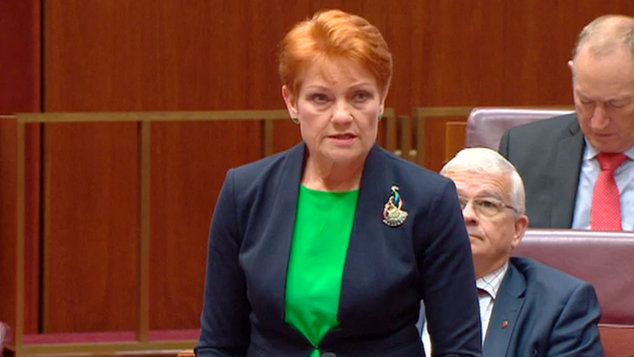 One Nation leader Pauline Hanson rose to speech about the bill and said her comments were personal and did not represent the rest of her party.
Senator Hanson said she did not agree with the process that had been taken to decide the issue, stating that she would have preferred a national referendum.
The One Nation leader said she believed that same sex couples should be allowed to get married but she had hoped the amendments to the bill would have been accepted. Senator Hanson said she would abstain from voting on the bill.
One of the Greens' newest Senators Andrew Bartlett, said the day the Howard government introduced the changes to the marriage law in 2004 was "a black day" and he was proud to be back in the parliament to see the clause removed.  Bartlett was a representative for the Australian Democrats in 2004.
Voting against the bill was Concetta Fierravanti-Wells, Eric Abetz, Matt Canavan, John Williams, Lucy Gichuhi, Helen Polley, Chris Ketter, Slade Brockman, Cory Bernardi, Barry O'Sullivan, Brian Burston and Fraser Anning.
One Nation leader Pauline Hanson and Peter Geogiou were not in the chamber, while Senator Bidget McKenzie formally abstained.
The bill will now move to the lower house to be debated. Due to the sitting of the lower house being cancelled for this week, the bill will have to wait until the lower house resumes next week.
OIP Staff
---
Support OUTinPerth
Thanks for reading OUTinPerth. We can only create LGBTIQA+ focused media with your help.
If you can help support our work, please consider assisting us through a one-off contribution to our GoFundMe campaign, or a regular contribution through our Patreon appeal.