Review | 'Briefs: Bite Club' blends familiar tastes with a fresh new flavour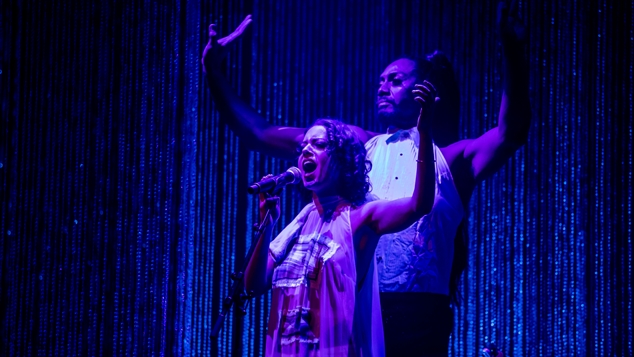 Briefs: Bite Club | Aurora Spiegeltent | til Feb 13 | ★ ★ ★ ★ 
The treasured talents at Briefs have returned to the west coast with an all-new show, blending your favourite acts from Fringe World's past with a fresh new flavour.
Briefs: Bite Club stars welcome familiar faces, everybody's favourite busy mum Shivannah (Fez Fa'anana), Vegas superstar Captain Kidd, matador supreme Brett Rosengreen and WA's own heartthrob Louis Biggs, bringing their myriad eye-popping skill to the speigeltents once again.
Whip-cracking on the mic is Shivannah, defying a pandemic and over-40 degree heat to safely bring her menagerie to Perth audiences. Briefs super fans will be familiar with Shivannah's inescapable charm, warmly welcoming everyone to the showcase with her Ipswitch glamour.
In classic Briefs style, the troupe offer a banquet of show-stopping talents, topped with lashings of sexuality, acrobatics, cursing and costume changes. A taste any previous attendee will recognise, and who among us hasn't been back for seconds or thirds (or tenths)?
Complementing these familiar sweetness is Sahara Beck and her band, not only providing a unique soundtrack to the on-stage antics, but as a starring member of the show.
Sahara's moody, soaring vocals are a stark contrast from the usual high-energy dance tracks of the Briefs experience, but certainly no less engaging or awe-inspiring. In one particularly memorable moment, hanging from the ceiling with guitar in hand, Sahara's voice enraptures the audience with her warm, soothing sound.
Briefs achieve something quite magical with Bite Club, managing to retain the essence that has kept Perth audiences coming back for more over the last decade, while allowing themselves to explore something more intimate, more sultry and loaded with heart.
Super fans of Briefs certainly won't be disappointed, but may be surprised by this more delicate serving of Fringe World's favourite dish.
Bite Club is testament to Briefs talent and ability to keep evolving, growing and adapting to overcome the weight of the world around us and bring joy, love and wonder to lift us all up with them.
Briefs: Bite Club is running until Sun 13 Feb at the Aurora Spiegeltent in the Pleasure Gardens. For tickets and more info, head to fringeworld.com.au
Leigh Andrew Hill is an editor at OUTinPerth, with a BA from the University of Western Australia in Media Studies & Art History. Since 2005, Leigh has studied and practiced journalism, film-making, script-writing, language, contemporary performance and visual arts. Leigh is also a freelancer writer, and producer and presenter on RTRFM 92.1.
Image: Lachie Douglas
---