Bright Lights is a beautiful farewell to Debbie and Carrie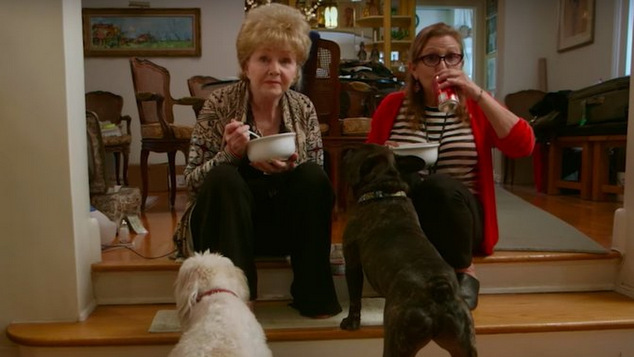 In the wake of the deaths of actress Carrie Fisher and her mother Debbie Reynolds HBO have brought forward the screening of Bright Lights, a documentary about the pair and their famous family.
Combining archival footage, and intimate fly-on-the -wall footage we enter the world of Hollywood royalty, discovering a close knit family, that is the same as everyone else's. A little bit crazy, incredibly entertaining and filled with an overwhelming sense of affection and love.
The cameras follow Carrie Fisher, iconic Star Wars actress , author and screenwriter, as she works to shed the kilos for filming the Star Wars movie The Force Awakens.
Fisher lives next door to her mother, entertainer Debbie Reynolds, who is in her 80's but adamant that she's still got a few more cabaret shows in her.
Reynolds house is classic glamour. She's a serious collector of Hollywood memorabilia and her stylish home is a tribute to Hollywood's brightest days. Judy Garland's red slippers from The Wizard of Oz sit in Reynolds' lounge room alongside many other iconic props and photographs.
Down a path and across a small hill sits Carrier Fisher's abode. It's filled with Star Wars memorabilia, quirky art works and unexpected comedic references to the movies. Her shower curtain is hilarious.
While Debbie Reynolds house recalls Hollywood romance, Carrie Fisher's reminds us not to take the world of entertainment too seriously.
Archival footage takes us back through both actresses' careers, tabloid scandals, past relationships and we're given an insight into what it was like for Carrie Fisher and her brother Todd when they were growing up.
The cinéma vérité styled film jumps backwards and forwards through the years. We join Carrie Fisher as she visits her ailing father, singer Eddie Fisher, who passed away in 2010. We see them in happier days in old family films, we jump back into the present as Debbie struggles with failing health and the decision to sell of a vast amount of her Hollywood memorabilia.
Carrie battles with personal trainers hired by Lucas film to help her get in shape for her return as Princess Leia. The film is filled with moments of great comedy. Fisher's personal trainer empties all her cans of Coca-Cola into the kitchen sink, but not long after an assistant is stacking fresh cans into her fringe.
We see a fifteen year old Carrie Fisher being pulled up on stage by her mother and encouraged to sing a song. Fisher lays down a soulful and bluesy take on Bridge Over Troubled Water, a song written by Paul Simon who would later become her first husband. At the end of the performance the teenager rolls here eyes and smiles.
In present times we see Carrie Fisher take to the stage once again to sing for her mother. It's Debbie Reynolds final Vegas show, she's still cracking jokes, flirting with the audience and having the time of her life. Decades later its obvious that Fisher's relationship with her mother has changed and she's happy to sing for her.
Fisher tells us she understands her mother's frustration that he body is not able to do all the things that her mind want it to.
"Age is horrible for all of us," Fisher says, "but she falls from a greater height."
Reynolds commitment to hard work shines through, even though she needs help climbing the stairs to get on stage, there's no place else she'd rather be.
Its a work ethic that is echoed by her daughter who dutifully attends a sci-fi convention to sign thousands of autographs and pose for photographs with legions of fans.
Heartbreaking, inspiring, honest complex and filled with love, this engaging documentary is just like the lives of it's subjects.
Covering themes of family, professionalism, mental illness, ageing and celebrity, this bittersweet film is a beautiful testament to both Debbie Reynolds and Carrie Fisher's lives.
Bright Lights, will screen globally this weekend. In Western Australia it will screen on FOXTEL at 9am on Sunday morning.  
Graeme Watson