Bringing Love to the Stage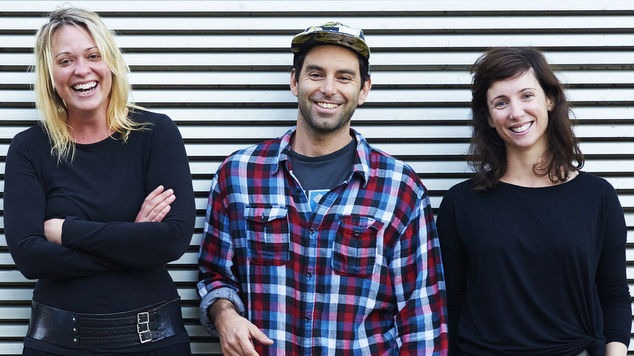 Actor Renee Newman-Storen (pictured, left) is one of a cast of three using their considerable talents to bring to life a love story spanning decades and continents. Entitled 'Those Who Fall In Love Like Anchors Dropped Upon the Ocean Floor', the new play by Finegan Kruckemeyer promises an epic saga that lives up to its grand title.
"It's a really interesting play because it's quite difficult to define." Newman-Storen explains. "it's all about love that is so massive that it transcends time and place." The actor says Kruckemeyer, who has had 71 commissioned plays performed on five continents, wrote the piece with her company, theMOXYcollective in mind. "He's got a series of wonderful pitches. And he sent us through about eight that he was quite happy to move on to a first draft with anyone. And we chose this one because it resonated with the three of us, independently we all came together and went 'Oh wow, this is the one', which was nice, for us all to sort of lock in on that. I think that it's partly because we wanted to tell a story about love, but also because it's a challenge, as theatre makers."
Newman-Storen, and fellow cast members Jo Morris and Ben Mortley will be taking on 12 characters from different backgrounds. The play opens with a French watchmaker named Alain telling his story, and moves through 3 other stories, all woven together to create a picture of human love in various incarnations.
"A young couple in the Appalachian mountains, a Russian cold war submarine between a captain, who is quite quickly going mad in anticipation for this war that's not happening. War with love, war with countries, war with America. And he's confronted by two of his subordinates, who are in love. Elena and Eva, and he's not sure how to deal with this. Then, of course, there is the French Alain and Brigitte and then we go also to an Australian couple, and a beautiful, very very awkward first date that transpires into this really interesting kind of reveal, which I won't reveal [Laughs]."
Newman-Storen plays one half of the same sex relationship in Cold War Russia. "All of the love stories are central but this is beautiful. And there's the dynamic of being stuck in this submarine under the water and how things come to the surface. So what was perhaps a love- it's an absolutely necessary beautiful love story that who knows, in other circumstances may or may not have happened or been allowed."
'Those Who Fall in Love Like Anchors Dropped Upon the Ocean Floor' is on at the Blue Room from November 11th-29th. Tickets available at www.blueroom.org.au
Sophie Joske